Vallarta Living
Veterans in Mexico are Safe and Happy

David Lord - PVNN
January 18, 2010
The fact that the Mexican Government is making a serious effort to confront and defeat the explosion of drug cartels is hardly the focus of US media reports. The focus seems more on keeping North Americans away from Mexico.
My personal experience of a better life in Mexico comes from being stress free; I rebel at the continuous assaults rolled south from the North. It is as if there is a geographically gravitational pull being exerted on us being below the North Americans and Canadians on the map, which makes for an easy and effortless drop of their scorn. Being a Patriotic American I am confused by this outright jealousy and portrayal of Mexico as Dangerous, based on the elimination of crime syndicates.


The undertone of reporting by Media Corporations in North American with respect to the safety conditions when living, or vacationing, in Mexico gives me chills. Mexico is represented as a place to be avoided and feared, with accounts blasting over the North American airwaves or published by Internet news with the latest tally of death, 99% of which are drug war related.


The fact that this is due to a serious effort by the Government of Mexico to finally confront and defeat the explosion of drug cartels is hardly the focus of the report. The focus seems more on keeping North Americans away from Mexico and using the right-minded battle against the Cartels as the very reason to stay away from enjoying Mexico.


It is like the Al-Qaeda reporting on the War in Iraq, giving a death toll of its supporters as if they were innocent bystanders and never mentioning what they were doing to bring about their own death by participation in terrorist acts.


Yes, it is terrible that fifteen thousand people have died in the drug wars since 2004, some innocent tragically. However, it is not so terrible, (in my opinion) that at least 99% of these were personally involved in the drug business or cartel.


For my part those horrible deaths are easier to deal with knowing that at least thirteen thousand criminals are forever removed from being potential threats to the public. Making Mexico a safer place by their death and I am safer now than before in Mexico by their passing out of life. The very action that media touts as dangerous actually has made my life safer and happier.


It is my opinion that just like Al-Qaeda, the drug Cartel threatens all peoples of all Nations and is an enemy of the public. Yes, I have read about the terror in the border town Juarez, across from the U.S. town of El Paso, Texas. The sensation of the reporting, is the number of deaths, the thousands that were murdered in Juarez last year, and the fact that just across the International Border in El Paso the murder toll was only ten people in that same year.


The headlines are saying stay away from Mexico - it is too dangerous, stay home in America or Canada, where you will be safe from death. That would seem to be true if Mexico was made up of only border towns where the raging demand for drugs fueled by Americans and Canadians creates billion dollar crime syndicates. Cartels willing to spend thousands of lives to supply and mule the product north for consumers totally oblivious to the misery they partake in.


This war and those deaths are a result of users paying criminals any price for drugs, trying to escape their unhappy realities at home in those Northern Countries. Couple this with the fact that the worse things get, the more fear generated, the greater the profit from selling more papers or driving more clients to their Media Internet sites.


The fact that the reports are true on the surface makes for a convenient truth that is downright unfair to Mexico. Dangerous for those people immediately involved (users, drug dealers and hit men) and any of the citizens in close proximity to Border is not as automatically applicable as it is dangerous for visitors or residents outside that location. In fact, it is encouraging to me as a resident and the other citizens of Mexico living away from the border that the struggle goes forward.


When you vacation or live in Puerto Vallarta, you will find yourself in a paradise full of fun and adventure, alive and relatively safe to enjoy life. When I say paradise, I literally mean the physical beauty here is unsurpassed. Having returned this last November from a Mediterranean Cruise from Spain to Turkey I can say nowhere was as beautiful as Puerto Vallarta.


Though the facts and reported deaths cannot be argued with, but the fact that those deaths are 99% involving criminals is a positive truth. But it is not reported that way. Instead of the applause of the Media we get nothing but tunnel vision pinpointed on keeping North Americans away. My question is "Why?" Is it the fact that the economies of the Northern Countries need every penny to remain at home, a need to keep citizens spending at home more easily accomplished with negative publicity?


Sometimes it feels that way.
---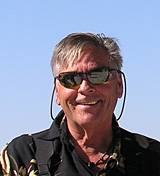 David Lord is a V.A. accredited Veterans Service Officer living full time as a resident of Mexico. David is retired from U.S.M.C. for a gunshot wound, his unit received the Presidential Unit Citation at Khe Sanh Combat Base. He was a rifleman with the 1/26th, 5th Marine Division in 1968 during the 77 day Siege at Khe Sahn, then awarded The Purple Heart for a gunshot wound in Quang Tri Province. For more information, email him at david.lord(at)yahoo.com.
Click HERE for more Veteran Affairs with David Lord
Tell a Friend
•
Site Map
•
Print this Page
•
Email Us
•
Top