Vallarta Living | Art Talk
Institute of the Americas Hosts Huichol Art Exhibit

The Log
go to original
February 21, 2010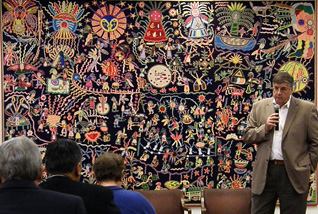 Focus on Art – Jeffery Davidow, president of IOA, unveiled a Huichol mural by famed artist Emeteria Rios Martinez. Boaters who visit Nayarit and Jalisco can learn what Huichol art represents, to better understand the indigenous cultures of Mexico. (IOA)
La Jolla — Boaters cruising between Mazatlan and Manzanillo often see colorful Huichol artwork in the farmers' markets — but like many other first-time visitors, they don't know what it is.


The prestigious Institute of the Americas (IOA) at the University of California, San Diego (UCSD) in La Jolla is hosting a rare display of indigenous Huichol beadwork, sculpture, string paintings and murals — so, boaters planning a cruise to Mexico can gain an appreciation of the culture.


Jeffrey Davidow, president of IOA and former U.S. ambassador to Mexico, unveiled the Huichol art exhibit Dec. 3, and collector Eugene Garfield spoke about the indigenous people's spiritual and cultural beliefs and how they are expressed in their art forms.


The Huichol people prefer to live in primitive isolation in the coastal mountains behind Mazatlan, San Blas, Puerto Vallarta and Barra Navidad. However, a few women come to the seaside mercados to sell the villages' wares.


A highlight of the event was a huge string mural by fabled Huichol artist Emeteria Rios Martinez titled "History of the Huichol" which depicts creation. The mural, which measures 8 by 12 feet, remains on permanent loan to the IOA and is displayed in the Weaver Conference Center at UCSD.


Many other pieces of Huichol artwork are on exhibit, including sculptures and ceremonial bowls made of intricately placed glass beads. Some smaller pieces suitable for display on a boat are for sale through the IOA.


Boaters wishing to learn about and collect cultural arts from the regions they visit will find Huichol beadwork and fabric paintings to be the best examples of Pacific Mexico. For more information, follow links from the Institute of the Americas Web site: ioamericas.org. The Weaver Conference Center is at 10111 North Torrey Pines Road, La Jolla, CA 92137. The IOA phone is (858) 453-5560.


Another permanent exhibit of Huichol murals is at Lindbergh International Airport in Terminal 3, but the series of 12 giant murals is viewable only to ticketed airline passengers.


Farther south than Nayarit and Jalisco, Guatemala's indigenous Mayan culture makes very collectible woven huipile blouses and caftans, with each village weaving its own unique patterns that date back 500 years or more. In Panama, the indigenous Kuna women of the San Blas Islands make appliqué mola squares that boaters prize for their collections on board.
Tell a Friend
•
Site Map
•
Print this Page
•
Email Us
•
Top