Puerto Vallarta Real Estate
Eden on Puerto Vallarta's Southern Shores

Laura Gelezunas - videodivaproductions.com
February 05, 2010
The Residences of Sierra del Mar at Los Arcos are conveniently located just 15 minutes south of downtown Puerto Vallarta on the southern shores of Banderas Bay. (Video Diva Productions)
There's an array of developments springing up all across the Bay of Banderas. But a special stretch of beach offers its own version of Eden at Sierra del Mar Los Arcos.


"This piece of property is practically a family heirloom, says Carlos Osuna Jr., Developer, "It was first purchased by my grandfather back in 1955, and at the time it was a series of undeveloped properties in this particular area. There were no roads, no access from Puerto Vallarta but as time went on the city began developing various properties in the area. And most of them around here actually were gradually developed."


Carlos was busy with the construction of the private, gated, community, Sierra del Mar. The first of its type in the area that established a tradition of respect for the natural setting, where the lush Sierra Madre Mountains meet the sea. The beachfront location stayed untouched.


"This property, Sierra del Mar at Los Arcos, remained in its natural state and off the market for about 50 years. Then my father, myself and my aunt decided we wanted to develop it so we purchased it from the rest of the family, after it had been inherited, and proceeded to develop it in the same spirit that we did our first project which is Sierra del Mar. It's an ocean view community that's award winning and has positioned itself as Puerto Vallarta's first gated, ocean view community with a full array of services, underground utilities, and wonderful architecture and landscaping."


Revel in the splendor of Sierra del Mar Los Arcos, just 15 minutes south of downtown Puerto Vallarta. Be a part of this intimate development and enjoy your own personal retreat.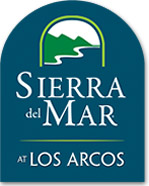 The Residences of Sierra del Mar at Los Arcos are conveniently located just 15 minutes south of downtown Puerto Vallarta on the southern shores of Banderas Bay at Km 9.75 Carr. a Barra de Navidad.

Offering homeowners elegance, tranquility, privacy and security within minutes of one of the most popular tourist destinations in the world - Puerto Vallarta, Mexico - Sierra del Mar at Los Arcos is an exclusive oceanfront community of 53 luxury residences on the southern shore of Banderas Bay. For more information, call (310) 601-8920 from the U.S or Canada, 52 (322) 228-0356 in Mexico, or visit SierraDelMar.com.

Click HERE to learn more about Sierra del Mar at Los Arcos.
Tell a Friend
•
Site Map
•
Print this Page
•
Email Us
•
Top