Vallarta Living | Veteran Affairs
US Health Care More Uncertain Than Ever

David Lord - PVNN
February 06, 2010
A decision to gloss over Health Care in the National address spoke volumes about our future.
I watched the President give his State of the Union Address, his entrance made among those cheering, clapping, hand grabbing guests and lobbyists in the crowded chamber. I wondered about health care and how he would present this fine ready-to-eat Medical Stew being placed on our collective table as our main dish after a year in the making.


In the beginning it was to be a victory over injustice; often he had recounted his mother's unfortunate experience with insurance companies, a story told about heart breaking struggle of denied coverage. A new era of balance between those that have paid and rightfully deserved but not received, and those who have not the resources but the need, was the purpose of change.


By the strength of his conviction he had made this his goal, his sole focus for his first year in office. Frankly, I had been confused and perplexed by its over two thousand pages of legislation left unread, unexplained. I waited for the explanation and instead received a brief that there would be cost involved when passed, the what, when and how of it left unanswered. I now find myself more uncertain than ever is what I came away with from his speech.


The American people elected what was thought to be a breath of fresh air in a President. A decision to gloss over Health Care in the National address spoke volumes about our future. The American people have more insight than given credit for, the long term physical health of the People and the financial health of the Nation is at stake and needs open discussion.

Rep. Steve Buyer Announces He Will Not Seek Another Term

Ranking Member on House Vets' panel, in midst of scholarship foundation scandal, cites wife's health.


Note from Larry Scott, VAWatchdog.org: Rep. Steve Buyer used to be Chairman of the House Committee on Veterans' Affairs. How did he get there?


January 6, 2005 House Republicans oust Chris Smith as chairman of the Committee on Veterans Affairs for his tireless advocacy of veterans rights:


"It all came down to the fact I wanted to spend too much on veterans," Smith said following a 90-minute meeting in which he detailed the 22 laws he authored to help veterans in his four years as chairman. .... "This is not only a slap at Chris Smith, but a shot over the bow at veterans organizations," said Richard Fuller of the Paralyzed Veterans of America. "The Republican leadership has made a statement that the country is making too much of a commitment to the men and women who have served in uniform." (New Jersey Star-Ledger, January 06, 2005)


Basically, Buyer promised to follow the party line, so he helped oust Rep. Chris Smith (R-NJ), considered to be a great friend of veterans. Then, in the election of 2006, the Democrats won the House and Buyer became Ranking Member as Rep. Bob Filner (D-CA) took over the Chair in January of 2007.


Sylvia A Smith
Washington editor


WASHINGTON - Rep. Steve Buyer, R-4th, will not run for a 10th term because of his wife's illness, he said Friday. Buyer's retirement deals a blow to the GOP, which hopes to ride voter dissatisfaction to majority control of the House in this year's congressional elections.


Buyer, 51, under an ethical cloud because of a charity he founded that has not awarded the scholarships it promised, said his wife has an "incurable auto immune disease." Weeping at times, he made the announcement at Indiana University Medical Center in Indianapolis with his wife, Joni, at his side.


Buyer's seat was considered "safe," meaning the Republican Party would not need to send resources to help Buyer's re-election. But a congressional district without an incumbent would compete with other competitive House races for contributions from national party organizations.


His district is long and narrow, stretching through much of central Indiana from White County to Bedford County.


Earlier this week a government watchdog group asked for an IRS and House ethics investigation into Buyer, claiming he "used the charity to foot golf fundraisers at exclusive resorts where he hobnobs with corporate donors ... who have business before him."


Buyer helped found the Frontier Foundation in 2003 and is its honorary chairman. The non-profit organization says its main purpose is to raise money for scholarships for Hoosier students but has not awarded any.


Buyer entered Congress in 1993 after defeating a liberal Democrat. Buyer, who had been in the first Gulf War as a legal adviser in a prisoner of war camp, campaigned with combat boots strung around his neck.


One of the early issues he championed after being sworn in was an investigation into medical problems Gulf veterans - including himself - were experiencing. At the time, the Pentagon denied the existence of Gulf War Syndrome.


He rose in seniority in the Veterans Affairs Committee, and when the GOP held the House majority, Buyer was the panel's chairman.
---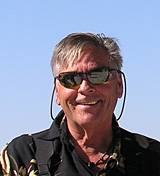 David Lord is a V.A. accredited Veterans Service Officer living full time as a resident of Mexico. David is retired from U.S.M.C. for a gunshot wound, his unit received the Presidential Unit Citation at Khe Sanh Combat Base. He was a rifleman with the 1/26th, 5th Marine Division in 1968 during the 77 day Siege at Khe Sahn, then awarded The Purple Heart for a gunshot wound in Quang Tri Province. For more information, email him at david.lord(at)yahoo.com.
Click HERE for more Veteran Affairs with David Lord
Tell a Friend
•
Site Map
•
Print this Page
•
Email Us
•
Top