Entertainment | Restaurants & Dining
Daiquiri Dick's Daiquiri Mix Off Results

Laura Gelezunas - videodivaproductions.com
March 29, 2010
For more information or to make a reservation, please visit DDPV.com or call (322) 222-0566.
The results are in for Daiquiri Dick's 1st Annual Daiquiri Mix Off! On hand to MC the event was Daiquiri Dick's own Tari Bowman, and the contestants were up against a tough bunch of judges, including Peter Bowman of Daiquiri Dick's, Diva of The Original Dirty Bitches show at Club Mañana, and the incomparable Mike Hickman.


Executive Chef Ignacio Uribe Moreno and Chef Hnoi provided for nibbly treats for the 50 plus guests selected off the menus at The Deli PV and Daiquiri Dick's, including fresh fish Ceviche, Hummus, Avocado Bruschetta, and Chicken Satay.


Contestants in the Professional Division included mixologists Daniela Nungaray from No Name Bar & Grill, Carlos Caso from La Noche, Ezequiel Ramos from Daiquiri Dick's, Leonel Vargas from Concursante del Buenaventurea Grand Hotel & Spa and Jacinto Sosa Barrera from Daiquiri Dick's. The Amateur Division entrants were just as varied, and included Dan Freeman, Mark Callanan, Cesar Carrillo and Greg Soucy.


After much deliberation and drinking by our judges, the 1st Annual Daiquiri Mix Off at Daiquiri Dick's had it's winners! In the Professional Division, Leonel Vargas of the Concursante del Buenaventurea Grand Hotel & Spa, took first place with his Passion Fruit Daiquiri.


In the Amateur Division, Cesar Carrillo won with his Gondo Nectar Daiquiri. And thanks to all the audience participation and cheers during the taste-testing, the boisterous crowd named their own favorite, crowning Dan Freeman the Audience Choice winner with his Banana & Crème de Coconut Daiquiri.


Each winner received a dinner for two at Daiquiri Dick's and their names and daiquiris on the upcoming Daiquiri Dick's Specialty Drink Menu.


We would like to thank all our contestants, judges, and guests who came out to support the event. And for those wishing to sample the contestant's inspiring creations for yourselves... stop in Daiquiri Dick's in April to sample the competitor's Daiquiris yourself as Daiquiri Dick's features the Daiquiri Dick's 1st Annual Daiquiri Mix Off Menu at the bar!


Daiquiri Dick's is located at Olas Altas 314 in Colonia Emiliano Zapata, Puerto Vallarta, México. Breakfast, lunch and dinner are served between 8:30 a.m. to 11:00 p.m. daily (Brunch ends at 1:30 pm and dinner menu begins at 5:30 pm). Closed on Tuesdays from May 1st to October 15th and the month of September.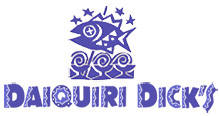 Daiquiri Dick's contemporary design exudes a quiet elegance that invites relaxation, and its tropical location at Olas Altas 314 on Los Muertos Beach offers the perfect atmosphere for enjoying spectacular views of Banderas Bay. For reservations call (322) 222-0566. For more information, visit DDPV.com.

Click HERE to read more about Daiquiri Dick's.
Tell a Friend
•
Site Map
•
Print this Page
•
Email Us
•
Top