Vallarta Living
New 'Becas In Action School Tour' and Becas Ball Final Touches

Polly G. Vicars - PVNN
March 09, 2010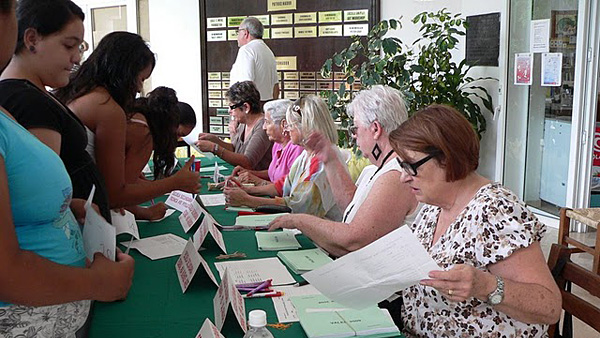 Linda Azcarate, Pat Bendix and other members signing in junior high becados to a meeting where they received vouchers for their uniforms, tennis and school shoes and all supplies for the school year.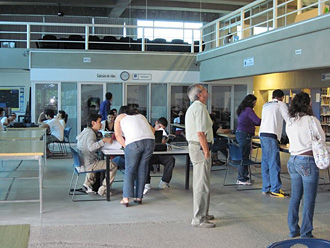 Director Armando Soltero of Prepa in the spacious study area of the newly constructed state of the art high school.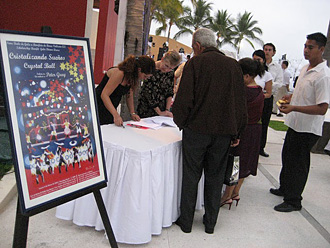 Ana Espinosa and Lanaya Dix welcoming ball goers to the 2009 Becas Ball with scholarship students standing by to help.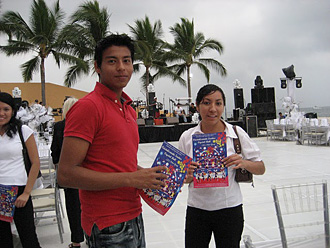 Scholarship students helping to set up 2009 Becas Ball with Grupo Odisea in the background getting set for the evening's entertainment.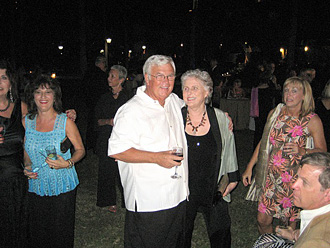 Happy 2009 ball goers Hank Lindsey of Frankfort, Ky and El Tuito, Jalisco with the lovely Becas member Margaret Tolton.
We are putting the final touches on the Becas Ball while planning a second tour of three of the many local schools where our scholarship students study. The Becas Ball is well on its way to being our best. President Mariel de Fregoso and Rocco Troyani are producing a setting that will dazzle us, Los Bambinos and Grupo Odisea of Ciudad Guzmán are honing their repertoires to delight us with their music, Club Regina chefs and staff are preparing to cook and serve us an unforgettable gourmet dinner, Linda Wirth and I are diligently trying to see that you have the table you want, high school and university scholarship students are arranging their schedules to be on hand to assist you in parking, getting to your assigned tables and any other help you need and the rest of our foundation members are pitching in wherever and whenever needed!


In the midst of all of this hubbub, we have a new "Becas in Action" fund raising school tour ready to go on Wednesday, March 24, 2010. We will visit Escuela Secundaría Técnica #132 - Coapinole (junior high), La Escuela Preparatoría Regional de Puerto Vallarta ( high school) and Instituto Technológico Superior de Puerto Vallarta (ITSPV) (University).


At the schools we will meet the Directors, some of our scholarship students and see classrooms in action. We will culminate the tour at the popular restaurant Mariscos El Coleguita in Ixtapa for a lunch of shots of tequila, cup of seafood soup, generous portion of shrimp, fish and/or octopus-cooked your way, salad, bread, dessert of fried banana with cream and a Kahlua and Cream after-lunch drink. Tickets are only $500 pesos each, and of course, include the delicious lunch at El Coleguita.


We will leave from in front of the Molino de Agua (across from Vista del Sol) in an air conditioned bus promptly at 10:00 am. You should plan to be there about 9:30 so that we can keep on schedule. We plan to finish the school tours in order to be in Ixtapa for lunch by 1:30 pm after which we will return to Molino de Agua.


Tickets must be bought and reserved by March 21 from any member of Becas or here at the Becas Ball Reception Table. For more information or for last minute Becas Ball tickets call Polly Vicars at (322) 223-1371 or 044-322-182-0215. You won't want to miss either of these fun and important events and the chance to change young lives through education!

---

Polly G. Vicars and her husband of almost 60 years, Hubert (a.k.a. "Husband") retired to Puerto Vallarta in 1988 and soon became active members of several charitable organizations. Polly is the author of "Tales of Retirement in Paradise: Life in Puerto Vallarta, Mexico" [a sell-out!] and "More Tales of Retirement in Puerto Vallarta and Around the World." Proceeds from the sale of her books go to the America-Mexico Foundation, a scholarship foundation that is their passion.

Click HERE for more articles by Polly Vicars, or click HERE to learn more about Becas Vallarta and the America-Mexico Foundation.
Tell a Friend
•
Site Map
•
Print this Page
•
Email Us
•
Top