Sayulita Bird Watching - A Bit of Irony

Ed Schwartz - PVNN
March 29, 2010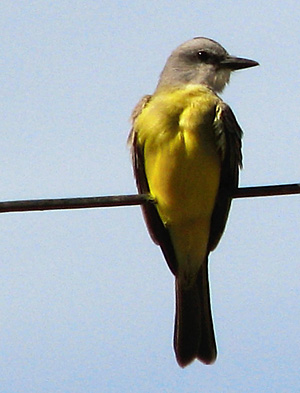 The first day when we returned, I took a photo of a nice yellow bird as a test; downloaded into my computer and printed it out. (Ed Schwartz)
Here in Sayulita, my wife wants to turn me into a bird watcher. To tell the truth, I don't care much about watching birds, but, I confess, I like taking photos of birds. Therein hangs a tale.


About 50 feet from our house, we had a great view of a very tall and old tree, bereft of leaves. Birds of all stripes liked to perch on the bare limbs - perfect for photography, since there are no leaves to get in the way.


The problem was at that distance it was hard for me to zoom in to get a really tight shot. My old camera didn't have image stabilization (IS, as we say in the trade) and everything was fuzzy. No one wants to look at fuzzy birds. Also, Bambi had a chintzy pair of binoculars that really didn't get the job done.


So, with a problem like that, you can throw money at it and it will be solved. I purchased a special pair of binoculars that, when focused, can tell the sex of a bird from 50 feet. For my part, I purchased a new Canon Camera with a 20X optical zoom along with image stabilization that can deliver a crisp image along with 12.5 mega pixels that Canon assured me was more pixels than I needed.


The first day when we returned, I took a photo of a nice yellow bird as a test; downloaded into my computer and printed it out. Great. Bambi was thrilled with her new binoculars. Now we can "bird" in earnest.


Next day, I was set to shoot a group of colorful birds. I got up early, since the early bird catches the worm, in this case, the photograph. But, I was puzzled. There were no birds on the tree. Come to think of it, there was no tree. Sometime, during the night, the tall tree crashed into a very large pile of twisted, broken limbs. The birds had fled to other, more salubrious perches. There went my book deal for "Birds of Sayulita."


Who said timing was everything?


Ed Schwartz has been involved in many aspects of fine wine for 30 years and has worked with top wineries in California, Italy and France. His writings on wine, food and travel have appeared in the SF Chronicle, LA Times and Image magazine.

Click HERE for more articles by Ed Schwartz