Vallarta Living
Hollywood and the Oscars Come to Puerto Vallarta, Mexico

Jim Scherrer - PVNN
March 17, 2010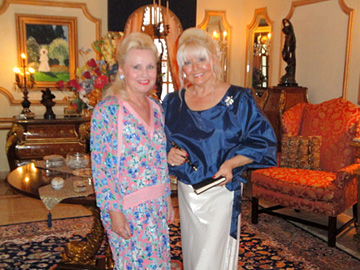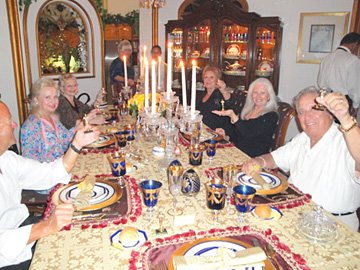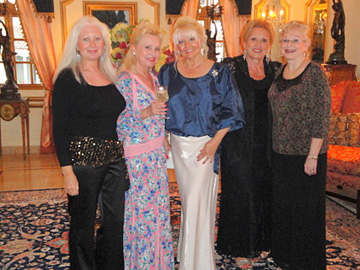 Distinguished guests, including Gerry & Janie Goraieb, Bob & Tina LaFlamme, Pina Carlini and Hollywood's Diane Mountford, attended Lori Anderson-Scherrer's annual Oscar party.
Since the filming of The Night of the Iguana with Richard Burton, Ava Gardner, and Deborah Kerr in 1964, Puerto Vallarta, Mexico, with its scenic Sierra Madre and Pacific Ocean coastline, perfect winter climate, and proximity to the US and Canada, has been a favorite vacation destination for Hollywood celebrities and dignitaries.


This past week was no exception as Lori Anderson-Scherrer, a longtime resident of Vallarta, hosted her annual Oscar party at her magnificent hillside villa in Conchas Chinas, "The Beverly Hills of Vallarta." Lori, a former actress/model in her own right, entertained distinguished guests from around the world including Gerry & Janie Goraieb, Bob & Tina LaFlamme, Pina Carlini, and as a special guest, Diane Mountford from Hollywood.


Diane, as a child actress, played roles such as Helen Burton in the William Wyler directed Children's Hour with Audrey Hepburn, and Shirley McClain, Gabrielle, the blind girl in Bonanza, Gail in Family Affair, Chip's girlfriend Laurie Palmer in My Three Sons, Susan in Leave it to Beaver, Janet Layton in Perry Mason and many others.


Perhaps you best remember Diane when she played Trudy in The Remarkable Mr. Pennypacker or when she co-starred with Bill Williams playing the role of Patty Greer in 11 episodes of the TV series Assignment Underwater.


The festive evening began as the guests were served champagne and hors d´oeuvres in Lori's opulent reception salon. With four wet bars and numerous TVs located throughout the villa, the 82nd Academy Awards programming was always present as were plenty of refreshments. From the reception salon, the guests moved to the media room where they watched the Red Carpet fashion show and placed bets on the winners.


As the presentations began, the guests moved to the formal dining room. The table settings were absolutely stunning with hand painted cobalt blue and gold trim on white Wedgwood china from the set given by Canada to Queen Victoria in 1887 in celebration of her Golden Jubilee (The balance of this set is currently on display at the National Art Gallery in Ottawa and the Museum of Civilizations in Hull, Quebec).


The cobalt blue with gold leaf crystal wine and water goblets beautifully complimented the china. A number of hand painted Limoges eggs were strategically positioned on the dining table around a pair of crystal candelabras with a gorgeous crystal chandelier overhead, the scene was set for a royal feast before the Oscar celebration in Puerto Vallarta.


Prior to dining, each of the guests were presented with their own Oscar; miniatures that were brought to Vallarta by Diane. Consequently, the entire party of "winners" enjoyed their fine dinners and desserts.


Upon completion of dinner, the entire group returned to the media room to view the final and most important awards presentations. For the most part, their favorite actors and films won as the evening ended with a bunch of happy (and full) faces; each with their own miniature Oscar in hand.


After stating their preference to watching the Academy Awards presentations in Puerto Vallarta rather than in Hollywood, they bid their farewells and departed into the comfortable evening air with fond memories that will last a lifetime.
---

The founder of Puerto Vallarta Real Estate Buyers' Agents (PVREBA), Jim Scherrer is a retired entrepreneur who has owned property in Puerto Vallarta for more than 25 years. Utilizing his experience and extensive knowledge of the area, Jim's series of informative articles about travel to and retirement in Puerto Vallarta reveal the recent changes that have occurred in Vallarta, while dispelling the misconceptions about living conditions in Mexico.


For more articles by Jim Scherrer, click HERE or visit PVREBA.com.
Tell a Friend
•
Site Map
•
Print this Page
•
Email Us
•
Top