Vallarta Living
Mexican Glue Causes Sticky Problems

Ed Schwartz - PVNN
March 01, 2010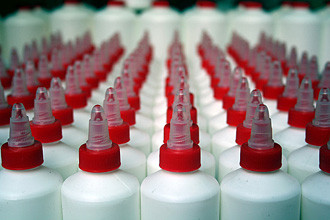 The white glue, aka Elmer's Glue in the United States, worked up to a point, but was a mere imitation of the real goods - thin and watery.
I was fascinated by the below news item because I was just about to write an expose on Mexican glue. I quote from this item from AOL News.

According to a just-released Air Combat Command report, 30 of the F-22A Raptors delivered by Lockheed Martin used 'inadequate adhesive' in their airframes. That means two things in plain language: bad glue; and big trouble. The report comes after investigators finished looking into an accident that happened last November. Part of the airframe of an F-22A fell off into the engine intake, causing a whopping $1.2 million of damage.

With all the incredible complexities involved in building today's warplanes, one would hope that inadequate adhesive would not be an issue. But it is!


From the time I was about five years old, I have been building ship and airplane models. I learned several major points along the way... Read the plans carefully so you know exactly what you are doing before you do it. Second, pay attention to details — how you cut, where you place finished pieces so you don't lose them and have the right knives, pins, tools and glue. The wrong glue can wreck your project and you are stuck with bad results, no pun intended.


Now that I am in Mexico and working on a variety of projects, I need at least three kinds of glue — what I call "white" glue, for paper and cardboard construction; instant glue, for small applications and epoxy glue for large applications that need to have very tight bonding.


At home, I also have super-fast glue with a separate accelerator and that stuff dries in a second. If you have your finger too close, your finger will stick so firmly that removing it from the glued object will result in a loss of skin.


Well, the point of this prelude is to say, although I have tried to adapt to Mexican ways, I must warn you — never, ever, buy glue in a Mexican hardware store. I don't want to go to Home Depot for a bottle of glue, but I must.


The problems with all glues made in Mexico are twofold — one; the glue itself is inferior to start with. And, two, the glue has been on the shelf for so long that it is dried out. And, as a side issue, the directions are in Spanish.


The epoxy glue I use comes in two hypodermic needle-like shapes. You press down on the "wings" and two parts of the glue snake out in equal measure. Mix the two together and it works well on bonding almost any two materials.


In the United States the resultant mix is clear and effective. The glue here, which looks like the U.S. version in terms of packaging, is a sham. First of all, the glue itself is black, as in tar. Messy to clean up. Second, the glue was so dried out, I got a hernia trying to get some out, finally resorting to using a very long nail and trying to pry some out the ends. Finally, I got a tiny portion squeezed out and when I recovered my breath, I bonded two pieces together. I noticed the glue on my mixing glass had not dried. No surprise then that the next morning when I checked for bonding by a light touch of my finger, the two pieces came apart like a puff of smoke.


The instant glue, the one in the tiny tube, I cannot report on its efficacy, because it was all dried up and I could not get one drop out of the tube, so I threw it directly into the wastepaper basket.


The white glue, aka Elmer's Glue in the United States, worked up to a point, but was a mere imitation of the real goods - thin and watery.


So, model makers, heed my warning and stick to it. If you purchase Mexican glue, you have been warned. If you think things falling apart on airplanes is bad, wait until you make a repair in vain.


Ed Schwartz has been involved in many aspects of fine wine for 30 years and has worked with top wineries in California, Italy and France. His writings on wine, food and travel have appeared in the SF Chronicle, LA Times and Image magazine.

Click HERE for more articles by Ed Schwartz
Tell a Friend
•
Site Map
•
Print this Page
•
Email Us
•
Top