News from Around Banderas Bay
Vallarta Fishing Experience: Puerto Vallarta Sportfishing is on the Rise!

Stan Gabruk - PVNN
April 05, 2010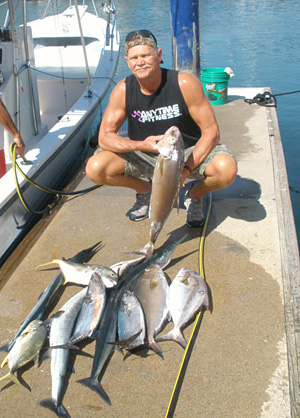 In between El Morro and the Marietta Islands remains the hot spot for three weeks running now. I put clients out on an 8 hour trip and they hooked into more than thirty fish.
As Spring marches along, we find the Dorado have started to make a return to the area. Both El Banco and Corbeteña have been slow of late, but hopefully this will change very soon. Yellowfin Tuna Footballs are around the high spots as well, which means it can't be long before there are Billfish chasing them down! Puerto Vallarta Sportfishing is on the rise!


Like I just mentioned, El Banco and Corbeteña are finally showing signs of life when it comes to Dorado. Running in the range of 25 to 45 lbs, these beauties have been hitting Google Eyes, and lures. The Yellowfin Tune, footballs in the 20 to 35 lb range, are boiling around the high spots, but as late, with the full moon conditions have not been taking baits. Remember, they will bite before sun up and at sun down during the full moon phase.


By the time you read this article this condition will change, it just takes a day or two, and I predict El Banco and Corbeteña will be the place to be shortly. Stay tuned! Oh, there have been a lot of squids in the water, so if you're heading out for Yellowfin Tuna, get your insurance at the local marked and have squid for chum or bait! This could make the difference in your thousand dollars plus day!


For those of you interested in keeping up with the Wahoo bite, well they're biting at El Banco. Not many, mostly sparse, but if you are heading out this way make sure you have wire leaders and cable in your lures. Remember, Wahoo are not a schooling fish and will be an incidental catch.


It is hard to know when to target Wahoo because they are not like other fish. You mainly catch these fish by accident when they miss the vital parts of the lure or bait and somehow hook themselves on Mono line... Remember, know your fish! Several captains will tell you these fish are bad eating, but they are the best you will ever have! So if it looks kinda like a Barracuda, it's probably a Wahoo!


In between El Morro and the Marietta Islands remains the hot spot for three weeks running now. I put clients out on an 8 hour trip and they hooked into more than thirty fish. Amber Jacks to 35 lbs, Snappers at 15 lbs, Needle fish, Bonito 25 lbs, Pompano, and the list goes on.


Rooster fish are in the area, but they have been ignoring baits, but still worth a try, it won't remain like this for long. Still your best bet for catching fish and keeping an eye on your fuel or vacation dollar!


Anywhere in the bay is worth going right now. With Punta Mita coming back to life with smaller Dorado and the area just south inside the bay near the surf line is Rooster Heaven! Jack Crevalls, Rooster fish, Needle fish, Bonito, Skip Jack Tuna, and the list goes on. Four hours is worthwhile and you will catch fish. Six hours gives you more time to find fish and the eight hour trip will get you to the islands. So you don't need to hunt for Moby Dick, unless you are looking for Billfish or Yellowfin Tuna!


I have a friend in Cabo who is involved in the uphill battle of fish conservation in Mexico. There is a Mexican bill in front of the congress that would make Dorado, Sailfish, Marlin, and Sailfish fair game for commercial fishing companies in Mexico and possibly other countries as well.


This is the letter I got from my friend to describe what is presently happening and what this commercialization bill means:

The commercialization of Dorado (not Sportfishing) as well as all the species exclusively destined for Sportfishing have been proposed in two separate initiatives which have been presented before the House of Representatives by the representative from Sonora named Leon Perea. These initiatives are currently in the Camara de Diputados (House of Representatives) and awaiting the vote.


Once the House has voted on these it will pass to the SENATE where the senate will vote and either approve or return. If the initiatives manage to get through the Senate approved, the initiatives are then are sent to the President of Mexico and then published in the Diario Oficial de la Federacion.


If this happens, we are doomed because then the commercial fishing permits will be enough for the bearer to commercialize all 6 species exclusively destined for Sportfishing which include our precious Dorado and billfish. For more information, contact Robyn Wade at: baja(at)wonews.com.

There is a website that anyone who is thinking of visiting Mexico should read. It will clear up the hysteria the press is spreading about Mexico, drug wars and Americans' safety. The recent travel warning for Americans is only in effect until April 12, just after the highest part of Mexico's Tourism season. The descriptions the press and television news services are releasing are inaccurate at best and not happening in Puerto Vallarta. TheTruthAboutMexico.com will help clear up travelers' fears and straighten out the mumbo jumbo being put out there!


If you are planning a Puerto Vallarta vacation, I need people to catch fish and have fun on camera! If you are fishing with me, Master Baiter's, I will put a professional film crew on the boat with you, and we'll film your day, with me as the host, and give you a professional copy. But we need to make arrangements before you come down. So, can you come out and play?


We are now selling our world famous T-Shirts online at MasterBaitersGear.com Also check out MY BLOG, for local inside information on what's happening in Marina Vallarta.


Until next week, don't forget to kiss your fish...

Stan Gabruk is the owner of Master Baiters Sportfishing and Tackle in Marina Vallarta. He came to Puerto Vallarta for a brief, three-week vacation and never left. You can find Stan at his Master Baiters Sportfishing shop in Marina Vallarta, located on the boardwalk down from the lighthouse next to Tikul Restaurant. For more information about fishing in Puerto Vallarta, visit MasterBaiters.com.mx or email Stan at Catchfish(at)MasterBaiters.com.mx.

Click Here to learn more about fishing in Puerto Vallarta with Master Baiter's.
Tell a Friend
•
Site Map
•
Print this Page
•
Email Us
•
Top