Travel & Outdoors - Sportfishing
Master Baiter's Sportfishing in Puerto Vallarta

We Won't Jerk You Around

Established in 2000 Master Baiter's Sportfishing and Tackle is one of the oldest fishing companies in Puerto Vallarta. Specializing in Yellowfin Tuna, Black Marlin, Dorado, Sailfish and Rooster Fish, we pride ourselves on quality of service, happy customers and repeat business along with word of mouth referrals.


Master Baiter's Sportfishing is the only company in Marina Vallarta that offers a GUARANTEED CATCH on full price charters, where you get 30% of the charter cost back should you not come in with at least one game fish! We are willing to take the risk with you, making us the cheapest boats in Marina Vallarta if you happen to come back from your fishing charter sin fish!


Everything you will need for a great day on the water is provided on every fishing trip - an insured and licensed boat, English speaking experienced Captains and crews, ice, large coolers, fishing licenses, fresh line, smooth drags, Calstar poles, Shimano Reels - nothing but the best equipment on the market is adequate for us. We also provide 10 to 15 baits per trip and a large selection of lures so you won't be stuck with the right lure, but the wrong color!


As 2000 and 2001 WBS Billfish Series Grand Champions (World Champions), for boat, captain and angler, Master Baiter's is recognized as the premier fishing company in Puerto Vallarta. Recommendations in the 2007, 2008, 2009 and 2010 Fodor's Travel Guide for Puerto Vallarta by previous clients says it all!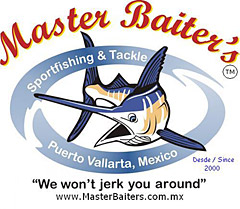 Stan Gabruk, the owner of Master Baiter's Sportfishing and Tackle, is well known in the professional Sportfishing community and writes for several fishing publications and magazines as a featured writer.


Our reputation for straight talk and being trustworthy is Master Baiter's cornerstone policy and our commitment to customers. We won't tell you the fishing is great or you'll catch Moby Dick in Banderas Bay to get your business. That is why we say at Master Baiter's "We Won't Jerk You Around."


For more information or to book your Puerto Vallarta fishing charter with Master Baiter's Sportfishing, call (322) 209-1128 or visit MasterBaiters.com.mx.

• B E L O W T H E F O L D •
Water Temps Fluctuate, Late Bites Frustrate Early Anglers, Fish are Biting!

Stan Gabruk

The way things have been happening around here in Puerto Vallarta's world famous fishing grounds it´s enough to make you pull your hair out. One day the water temps are down-right frigid, the next day they´re much warmer in the same area.

---
Winter Has Come to Puerto Vallarta Fishing Grounds, Bait Becomes an Issue

Stan Gabruk

Everyone in the world has heard of global warming and all the problems that come along with it - the entire United States is an icebox! Mexico is feeling the cold as well, right now we are seeing dropping water temperatures in the 72 to 76 degree range which is about what we would be expecting in late January. So we are about a month ahead of schedule.

---
Changing Seasons, Changing Currents, Experienced Captains A Must!

Stan Gabruk

The Marietta Islands and El Morro are full of fish. This area has been packed full of large Sailfish recently, as is normal for this time of year. Dorado in the 30 lb range, Rooster fish in the 30 lb range, Jack Crevalls, Bonito, Needle fish, Snapper and more are waiting for you in Puerto Vallarta.

---
Tournament Season Level Fishing Happening Now in Puerto Vallarta!

Stan Gabruk

Once you enter the middle of October you'll find the best fishing conditions of the year anywhere within 400 miles of Puerto Vallarta. With Yellowfin Tuna, Sailfish, Marlin and Dorado all firing right now, you can only imagine how good conditions are right now for anglers looking for a trophy.

---
High Season for Big Game Fishing Hits Vallarta Fishing Grounds, Pro Anglers Flock to Vallarta

Stan Gabruk

September begins the highest of sportfishing's high season in Puerto Vallarta. When it comes to Black Marlin, Monster Yellowfin Tuna, Sailfish, Dorado, Rooster Fish (and the impressive list goes on) the Banderas Bay area has you covered with plentiful and abundantly packed fishing grounds!

---
Fish R Where You Find Them, You Won't Be Looking Long, Puerto Vallarta Sportfishing Takes Off!

Stan Gabruk

Now that we are in mid-July, sportfishing in Puerto Vallarta is improving daily! We are seeing the summer species of Yellowfin Tuna in the 100 lb plus range starting to roll into Corbeteña and El Banco. We're also seeing the Black Marlin and Sailfish becoming more abundant - and larger!

---
Vallarta Fishing Experience: Fishing Parties in Puerto Vallarta, Marlin, Sailfish, Yellowfin Tuna, Summer Fishing Begins Now!

Stan Gabruk

We made it through May, always a transition month when it comes to fishing. The Memorial Day Holiday always marks the unofficial start of summer. Along with the warmer weather comes the warm water fish like Marlin, Sailfish, Dorado, Rooster Fish, Cubera Snappers, Amber Jacks and yes, Yellowfin Tuna.

---
Vallarta Fishing Experience: In Fish City, Spring is in the Air - and Summer is Around the Corner

Stan Gabruk

If you are looking to go Sportfishing in Puerto Vallarta this summer, I suggest you start thinking about when you want to be here in Fish City! Mid-July to late October bring world-record sized Black & Blue Marlin, and from early July to December Yellowfin Tuna range from 60 lbs to over 250 lbs.

---
On the Water with Vallarta Fishing Experience Host Stan Gabruk

SF Productions

In this episode of Vallarta Fishing Experience, host Stan Gabruk takes us to the Second Annual Latin America Boat Show, which took place from March 11-15, 2010 at the Marina Riviera Nayarit in La Cruz de Huanacaxtle, Nayarit.

---
Vallarta Fishing Experience: First Early Season Marlin Boated, Water Temps Normal, Bay Fishing Explodes!

Stan Gabruk

We saw our first early season Blue Marlin the other day. It was caught at Corbeteña and in the 500 lb range. Sailfish are also moving into the area & there's plenty of bait in the water, so it looks like the planets are beginning to align and we may see the beginning of a normal fishing season!

Tell a Friend
•
Site Map
•
Print this Page
•
Email Us
•
Top