Vallarta Living
Celebrating Earth Week in Vallarta

PVNN
April 12, 2010
To learn more about the Earth Week activities and events taking place in Puerto Vallarta and around the bay from April 18-24, please contact Nicole Majewski at nicole@peacemexico.org.
This year, PEACE, a local non-profit, has decided to celebrate the 40th Anniversary of Earth Day in a big way, with Earth Week. They will be hosting and participating in several community events around the Bay.


"By spreading the word in several communities, we hope to be able to ignite community participation on a large-scale. It is a beautiful experience to be working together, alongside visitors and locals, students and teachers, to make a change in the community. We want to share this with as many people as we can, to let everyone know that it only takes ONE person to make a difference!" says the group's community relations director, Nicole Majewski.


They launch Earth Week in Puerto Vallarta with a Rio Cuale river clean-up on Sunday April 18th. Partnering with Rivera Cuale Condominiums, Vallarta Adventures, PV Pulse and Naef Cuisine, they are expecting up to 100 volunteers to help clean the 2-mile long river space along the streets of Colonia El Caloso. Volunteers will meet at 10 am at the Rivera Cuale offices. Click HERE for map. All volunteers must sign up in advance, and will receive lunch and a t-shirt afterward.


PEACE will also be hosting 2 movie nights in the Punta de Mita community in both Emiliano Zapata and Corral del Risco, in the main plazas. This is partly organized by the local municipalities and will feature the movie "Earth" in Spanish. The specific locations of the filmings will be determined and announced this week on their blog. Contact Nicole at nicole(at)peacemexico.org for more details.


On Earth Day, Thursday, April 22nd, PEACE along with Bucerías Bilingual Cultural Club, Amigos de Bucerias and Recicladores de Bucerias, will be hosting the 1st New Eco Fair in Bucerías. Once an annual event, they are trying to start a new tradition on Earth Day.


This year's event will have several workshops, informative information about ecological organizations in the Bay, many great products and much more! The event is from 10 am to 5 pm and more information is available through email. If anyone is interested in participating, please contact PEACE.


Earth Week ends with the building of their first Recycle Park in 2010. Along with EntreAmigos and many many volunteers, PEACE will construct an entire play-ground made out of recycled materials in ONE day. This will be the first of 4 parks that will be constructed in the Mita area this spring. For information on donating supplies or materials or volunteering, please contact us.


If you are interested in any of these activities or events, please contact Nicole Majewski at nicole(at)peacemexico.org.
---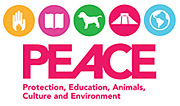 PEACE: Protection, Education, Animals, Culture and Environment, is a nonprofit organization established in 2005, made of four main programs which focus on education, entrepreneurship, animal well-being, and community engagement in the coastal regions of Nayarit, Jalisco and Quintana Roo, Mexico. Through innovative and community based programs, PEACE is working to improve the quality of life in local communities throughout the Bahía de Banderas. For more information, please visit PeaceMexico.org or click HERE to read more about PEACE
Tell a Friend
•
Site Map
•
Print this Page
•
Email Us
•
Top