Community Unites to Transform Schools

Becci Burchett - peacemexico.org
April 29, 2010
For more information or to volunteer for the May 8th Recycle Park project, contact Nicole Majewski at Nicole(at)peacemexico.org.
Punta de Mita, Nayarit – Yo reuso, yo reduzco, yo reciclo...y tu? These proactive words were sported by over 250 green T shirts at the elementary school in Corral de Risco during the Recycle Park project last Saturday the 24th.


Music was blasting as bottles, drainage pipes, old fencing, tires, broken boats, and fishing nets gave new life in the form of a safe, beautiful playground in this one day community build event.


"The energy on Saturday was unbelievable," said Molly Fisher, Founder and Director of PEACE, a local non-profit. "We've had so many calls and emails coming in from people who want to know when the next community build event is."


PEACE, and San Pancho nonprofit Entre Amigos partnered along with incredible support from local neighbors, school children, teachers, and other dedicated volunteers to paint murals on 3 buildings, decorate fences, build a playground and create an outdoor seating area. A water retention system was built, and plants and green spaces were installed around the park.


Three more parks are scheduled to be built on May 8th requiring at least 500 volunteers where the kinder, primaria and secundaria schools of Emiliano Zapata will receive complete makeovers.


"Believe me, everyone wants to be a part of this amazing day," Nicole Majewski, PEACE Community Relations Director said. "We have three more schools to transform, but I'm sure volunteers will start signing up. The power of people and teamwork is truly inspiring!"


Lunch, a children's center, and art workshops will be located at the PEACE Casa Campesina in Emiliano Zapata while the parks are constructed from 9 am-6 pm.


"I don't remember everything I learned in grade school, but I remember the playground perfectly," Fisher said. "These parks do even more than transform schools. Clean space, creative artwork, and sustainable building transform the attitudes of entire communities."


For more information or to sign up to volunteer, contact Nicole Majewski at Nicole(at)peacemexico.org.
---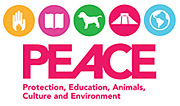 PEACE: Protection, Education, Animals, Culture and Environment, is a nonprofit organization established in 2005, made of four main programs which focus on education, entrepreneurship, animal well-being, and community engagement in the coastal regions of Nayarit, Jalisco and Quintana Roo, Mexico. Through innovative and community based programs, PEACE is working to improve the quality of life in local communities throughout the Bahía de Banderas. For more information, please visit PeaceMexico.org or click HERE to read more about PEACE