Puerto Vallarta Real Estate
First Closings at Molino de Agua Finalized and Financed Through MEXLend

Patrick Harrison - P. Gringo Marketing & PR
May 05, 2010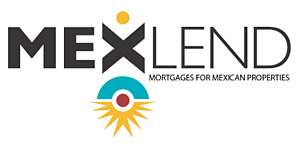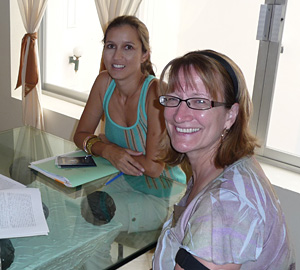 Happy new owner Mrs. Rocole (R) with Jessica Riedesser.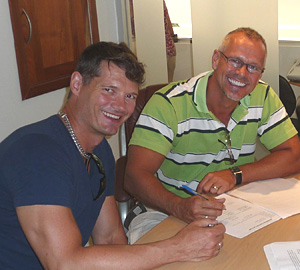 Peter Rex (L) and Steve Martin sign their deed.
Puerto Vallarta-based MEXLend, an industry-leading mortgage broker in Mexico, is thrilled to announce that the first two condos at Molino de Agua officially closed last month - and the surprise is that they were not all-cash purchases, but financed with mortgages.


"It is exciting to have both the first and second official closings of this landmark development close with financing orchestrated by our company MEXLend," says CEO, Terence Reilly. "So many realtors and developers still believe that financing will slow down their closings, when that is just no longer the case."


MEXLend´s clients had scheduled their trips to Puerto Vallarta and expected to close on their homes at Molino de Agua, and MEXLend jumped through hoops to make the closings happen for them. Of course, they did not do this alone. It was an orchestrated effort of many, many people. The developers of Molino de Agua and Luis Miguel Guerrero Gonzalez, head of their legal team, worked long hours to provide documentation to make this happen. The legal teams of Notario #2, Teodoro Ramirez Valenzuela of Bucerias and Riedesser y Asociados, found the way to bring these to a close after spending hundreds of hours reviewing final documents. Also the staff at Bancomer, in particular Arturo Tames Garcia, spent a furious last few hours leading up to the closings ensuring that all was ready.


David Schwendeman, President of MEXLend added "Many times when there are purchasers with mortgages in a new development, this helps to push the developers into getting their paperwork in order which only facilitates quicker closings for every buyer in the building."


"We have been very thankful of our relationship with Carl Timothy of Timothy Real Estate Group. Personally stepping in to ensure a smooth open channel of communication allowed the entire team to work in warp speed," exclaimed Dan Chaponis, Director of Operations for MEXLend. "Our clients could not have been happier."


Peter Rex, one of the new homeowners, summed up his feelings this way; "We are happy that Molino de Agua has finally started to close, but that the quality of the project has made the wait worthwhile. Thank you to everyone for assisting us in this process, but especially Jay and Carl at Timothy Real Estate; Dan and Terence at MEXLend and Tim, Lina and Octavio from PVRPV. Together, we are #1!"


MEXLend is not limited to mortgages and loans for Puerto Vallarta, as they can offer their award-winning services and multiple loan options for purchasing property in any city, town or resort area throughout Mexico – in US Dollars or Pesos – to refinance a current loan or simply cash out on existing equity. To discover what one of the many loan options that MEXLend offers is right for you, go online to mexlend.com or mexlend.com.mx or call (322) 222-7377 in Vallarta, 1-800-3-Mi-Casa in Mexico or (917) 779-9061 from the US or Canada.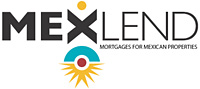 MEXLend, Inc. is a Mexican mortgage brokerage based in Puerto Vallarta that currently represents 8 different lenders offering 75 different loan options in Dollars and Pesos for buyers looking to purchase vacation or investment property throughout Mexico. To learn more about MEXlend, click HERE or visit MexLend.com.
---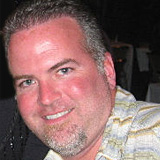 Born in Seattle, WA, Patrick Harrison has been living in PV since 2003. Drawing on his experience in entertainment, radio, retail and sports marketing in major US cities, Patrick opened his own business here in Vallarta, P. Gringo Marketing & PR, a successful Public Relations Firm that targets the English-speaking tourist and local communities. You can contact Patrick at patrick(at)pgringo.com
Click HERE for more articles by Patrick Harrison.
Tell a Friend
•
Site Map
•
Print this Page
•
Email Us
•
Top