PEACE Announces 2010 Wish List

Becci Burchett - peacemexico.org
May 30, 2010

Punta de Mita - Local non-profit, PEACE, has found new use for the 10-year-old Trouble game in the corner closet. By donating an item from the 2010 PEACE wish list, Puerto Vallarta visitors can make a big difference with little effort in the lives of the animals and community members throughout the Bahía de Banderas.


PEACE, established in 2005, is a 501(c)(3) nonprofit organization made up of four main programs that focus on education, entrepreneurship, ecology, animal well-being, and community engagement located in the Punta de Mita region of Mexico. PEACE works hand in hand with communities in Mexico to provide holistic education combined with community action programs that enable people to improve their quality of life as well as their financial stability.


During these hard financial times, more and more people have begun donating time or second hand materials as a way to give back.


"We were eager to donate to a worthy cause in the Puerto Vallarta area," said Lori Healy, a Chicago native. "When the Four Seasons told us about PEACE, our family organized a school supply drive and delivered it directly into the hands of the thrilled children. Now we're looking for more ways we can help PEACE!"


Donors like Healy are essential for the maintenance and growth of PEACE programming.


Items on the PEACE wish list include:


• Art Supplies for children - water colors, scissors, markers, paper, crayons, side-walk chalk, paint brushes


• Art supplies for adults - paint brushes, scissors, oil paints, colored pencils, pastels, drawing pads


• Craft supplies - swatches of fabric, tacky glue, beads, elastic, glitter, faux jewelry


• School supplies - blank notebooks, pencils, rulers, calculators, pencil cases, 3ring binders, backpacks


• Games - Puzzles, chess, checkers, jump ropes


• Shoes in children's sizes


• Yoga mats


• LARGE Animal Cages and leashes (Creative packing is a must - try using the cage as luggage and storing other supplies inside!)


• Surgical instruments for animal clinics


• Catheters for animal clinics (20, 22 and 24 gauge)


• Children Books in Spanish


• Filing cabinets


• Gardening tools - compost


• Professional Rain barrels/water retention systems (5)


• Picnic benches and tables (wooden)


• Outdoor chairs and tables (plastic or other)


• Cell phones - Telcel compatible


• Laptop Computers


• Empty hard drives


• Sewing Machines


• Professional tool kits


• Ladders


• Vehicles - US or Mexican plates


All donations must be delivered to Bucerias or Punta de Mita, Mexico and include a tax deductable receipt.


Visit the PEACE website at PeaceMexico.org or contact Becci Burchett at Becci(at)peacemexico.org for more information.


PEACE and its surrounding communities greatly appreciate your effort in creating positive change!
---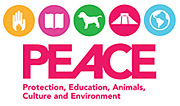 PEACE: Protection, Education, Animals, Culture and Environment, is a nonprofit organization established in 2005, made of four main programs which focus on education, entrepreneurship, animal well-being, and community engagement in the coastal regions of Nayarit, Jalisco and Quintana Roo, Mexico. Through innovative and community based programs, PEACE is working to improve the quality of life in local communities throughout the Bahía de Banderas. For more information, please visit PeaceMexico.org or click HERE to read more about PEACE