Vallarta Living
Fiesta Hacienda Palo Maria - The Most Glamorous Fundraiser of the Year

Gary R. Beck - PVNN
May 11, 2010
The Fiesta Hacienda Palo Maria fundraiser for PEACE and the SPCA de PV on May 8th was a smashing success and the most glamorous party of the year. (photos by Barbara Sands)
Update - May 17, 2010: Over $500,000 pesos were raised at Fiesta Hacienda Palo Maria! This amount will be equally divided between PEACE for free spay and neuter clinics in Vallarta and the SPCA de PV for animal rescues. PEACE's half will pay for approximately five months of clinics here.

Puerto Vallarta - PEACE Mexico and SPCA PV 2010 held a charity fundraiser Saturday May 8, 2010 at the grand and stylish Hacienda Palo María near Garza Blanca. We were greeted with valet parking service, then on a long wooden entrance bridge, by a row of ladies clothed in tropical black dresses decked with a white banner a la beauty queens as they all were, announcing the event destination.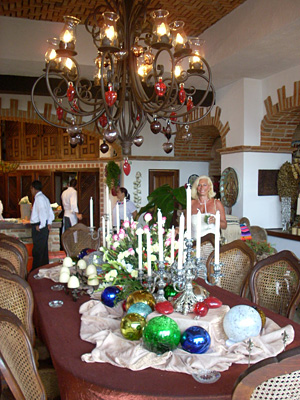 In attendance were well over 200 guests seated at round tables of 10 plus every press person imaginable. This was no doubt the place to be. The event was glamorous and spectacular, from the entertainment to the four course dinner to the flowers to the attentive service.


"Reach for the Stars" and they were there for such worthy charities. This was the ultimate grand finale to a popular winter season. The huge outdoor patio overlooked Bahía de Banderas. Shaded stone paths weaved from one area to another, past black wrought iron bird cages home for toucans, parrots, parakeets and many birds not known to some of us, highlighted with brightly colored feathers. Chirps resonated from all directions throughout the evening.


On the rocky cliff's edge was a large stage with speakers and equipment facing the guests. Mariachi Joya de México serenaded while drinks and passed hors d'oeuvres were enjoyed in the bright sunlight. This group may be the best mariachi in Puerto Vallarta. Young ladies in puffy white and red Mexican outfits offered baskets of sliced breads with about seven kinds of sliced cheese plus a cream cheese.


Everyone suspended their joyful conversations with new and old friends when dinner began. L'Orpheus of Guadalajara, a magnificent tenor and violinist duo, sang high and deep notes with no fear. Many times they were equal to the "Three Tenors" famed of Europe, singing some shared songs. The impressive performance brought some to their feet.


Elegant top notch French service was executed by the staff including white gloves when touching plates, captains in white jackets and everyone else in black and whites. There was total attention to detail. Our centerpiece was a huge arrangement of red and pink roses, green ferns, red carnations, white lilies around an inner-lit snowball-like clear plastic geodesic dome with small illuminating holes throughout. Other tables featured a tall metal candle-lit lamp post rising from the flowers.


Salad arrived first, a crisp Boston bibb lettuce with slices of ripe mango, spiced-candied pecans and shredded aged Cojita cheese. The vinaigrette dressing was subdued, allowing each flavor expression. San Jose Seafood Chowder, as it was called, bowl served on a variegated pothos leaf, was a wondrous creation which brought our table's most praise of the evening.


The broth was slightly puréed with tomato, chilé, crab and herbs. Medium-sized shrimp sat amongst the other seafood. Fresh cilantro sprigs and thinly sliced red onion added more depth to each bite. In combination, it was a repast desired again and again. A lovely display of honeydew, cucumber and lime sorbet soon arrived, known as a palate cleanser but also an intermezzo. Whatever, it certainly surpassed breath mints.


Main course brought a thick fillet of Pan Roasted Sea Bass, moist and sweet, displayed on a large green banana leaf. Fresh pencil-thin asparagus spears lay alongside. New to many of us "gourmands" was a Tamale Galette, which is French for a flat, round cake, this one composed of masa. The baking cup had been crusted with masa then filled with a slightly spicy vegetable mixture. When done, it was turned over the dinner plate. Scrumptious. Two Achiote Grilled Jumbo Prawns accompanied the dish, aided by the fine touch of a cheesecloth-covered lemon wedge.


Wines ranged in style but all appeared to be French: Domaine Laroche Chablis 2006 Saint Martin, Monteviña Chardonnay-Sémillon 2009 and Taittinger Champagne. The red wine was not recorded.


Then arrived another musical edge to the evening. Sergio "Checko" Carillo of Guadalajara sang popular tunes accompanied by his accomplished keyboard accompanist, Rafael Alonso, and a very fine band. The sun set and lights of many colors flooded the stage and palm trees around the area.


The head table was under an enormous gazebo made of metal and entwined with vines and flowers with an overhead light. Owner Phil Stewart of San Antonio, Texas sat with his friends and a special guest, a lady named Vikki Carr...remember her, originally from Mexico and also a resident of San Antonio? Phil is the benevolent man who proved himself to be the PV premier party giver. He flew in his friend and superior chef John Barrios of The Argyle in San Antonio, who was supplemented by local chefs César Pelayo, Joe Jack and Eduardo Michaga Lucero. What talent.


Dessert and coffee completed this feast of delights. The plate featured an oozy chocolate (spiced Mexican xocolatl) cake with English cream, drizzled with dark chocolate and garnished with fresh berries. Suddenly the MC introduced Ms. Carr and she was applauded loudly onto the stage. She was warm and delightful, with a clear voice. Some of her biggest songs and many Mexican ballads were performed to the delight of guests and press, including videographers.


Then came a lively and exciting auction (the highest bid was for four nights at the Hacienda Palo María for 12 people at $10,000 USD.) The high energy Cuban band "Los Guayacheros," along with Lion King animal costumed dancers and fire dancers were capped by an amazing display of fireworks directly overhead. Guests applauded the generosity of Phil Stewart, owner/host of the Hacienda Palo María, and to the anonymous underwriters of this event.


With the lilting melody memory of "It Must be Him" wafting in the air, our group headed back along the bridge to the outer courtyard to say out good byes and deep thanks for an utterly unforgettable evening.

PEACE: Protection, Education, Animals, Culture and Environment, is a nonprofit organization established in 2005, made of four main programs which focus on education, entrepreneurship, animal well-being, and community engagement in the coastal regions of Nayarit, Jalisco and Quintana Roo, Mexico. Through innovative and community based programs, PEACE is working to improve the quality of life in local communities throughout the Bahía de Banderas. For more information, please visit PeaceMexico.org.


The mission of SPCA de PV is to help fund and promote sterilization, adoption and healthcare efforts for companion animals in the Puerto Vallarta area, with the goal of eliminating the euthanasia of healthy and adoptable animals. Monies raised will support these various goals in ways that are most feasible within the community. For more information, visit spcapv.com.
---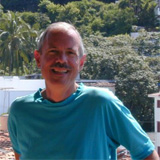 After 20 years in the San Francisco restaurant business, Gary R. Beck turned his attentions to cooking, dining out, creating recipes and exploring Puerto Vallarta's rich array of eateries. Famous for his restaurant guide, available online at CafePress.com or Lulu.com, Gary also writes restaurant reviews for Puerto Vallarta newspapers, Bay Area magazines, and now, a feature column for BanderasNews.com. Contact Gary at garyrbeck1(at)yahoo.com.
Click HERE for more articles by Gary R. Beck.
Tell a Friend
•
Site Map
•
Print this Page
•
Email Us
•
Top