Puerto Vallarta Real Estate
US Homes Keep Falling Into Foreclosure as Programs Fail to Help

Tony Pugh - McClatchy Newspapers
go to original
July 30, 2010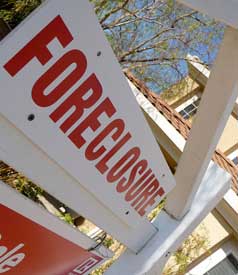 (Jeff Turner/Flickr)
Washington - More than three years into the housing crisis that helped trigger a worldwide recession, the torrid pace of home foreclosures continues to tear at the core of the American dream.


New figures Thursday from Realty-Trac showed that foreclosure activity declined over the first six months of the year in nine of the 10 large metropolitan areas with the highest foreclosure rates.


However, most of the 206 metropolitan areas with 200,000-plus residents didn't fare as well. In fact, three out of four posted year-to-year increases in their foreclosure rates. Seventeen of the 20 hardest-hit areas were in Florida and California


In the first half of 2010, more than 1.6 million U.S. properties were hit with foreclosure filings, which include bank repossessions, default notices and auction sale notices. That's up 8 percent from the first six months of 2009 and puts the U.S. on pace to top 3 million filings this year. That includes more than a million bank repossessions, and while sub-prime borrowers and bad loans led the surge in foreclosures in 2008 and 2009, this year's wave comes from homeowners who've lost their jobs.


The numbers reflect the widespread and continued fragility of local housing markets amid what's largely a jobless recovery. They also raise questions about the effectiveness of programs designed to fight foreclosures, such as the Obama administration's Home Affordable Modification Program.


"If unemployment remains persistently high and foreclosure prevention efforts only delay the inevitable, then we could continue to see increased foreclosure activity and a corresponding weakness in home prices in many metro areas," said James Saccacio, the chief executive officer of RealtyTrac.


Look no further than the Chicago-Joliet-Naperville metro area for evidence. Between June 2009 and June 2010, the area led the nation with 76,000 job cuts, according to government data. Not coincidentally, foreclosure activity in the Chicago area for the first half of 2010 was up 23 percent over last year; the area's 78,000 properties that received foreclosure filings ranked third highest in the nation.


From the Bush administration's HOPE for Homeowners program to the TARP-funded HAMP program, community groups, consumer advocates and homeowners themselves say anti-foreclosure programs have been largely ineffective because banks don't have a strong incentive or mandate to modify loans that favor them financially.


Government officials envisioned the Home Affordable Modification Program helping 3 to 4 million homeowners avoid foreclosure by 2012. Borrowers who receive permanent modifications of their home loans under HAMP save a median of 36 percent — about $510 per month — off their original mortgage payments.


Let Truthout send our best stories to your inbox every day, for free.


However, of more than 3.1 million eligible delinquent loans, only 389,000 have been modified permanently, according to the most recent government figures. Another 364,000 loans are in trial, or temporary, modification plans that could become permanent, but critics say that seldom occurs. More than 520,000 of these plans ended up being cancelled.


In a recent survey of 53 California mortgage counselors with caseloads of more than 14,000 homeowners, 60 percent said they had clients who lost their homes to foreclosure while they were working with a loan servicer to enroll in the HAMP program.


Gina Gates of San Jose, Calif., said that's what happened to her as she was working with Washington Mutual Bank to enter a similar program.


In October 2008, when Gates could pay only $8,000 of the $12,000 she owed in back mortgage payments, she sought help through the Bush administration's HOPE for Homeowners program, which allows troubled borrowers to refinance their mortgages through new loans insured by the Federal Housing Administration.


While she was waiting for Washington Mutual to send the program documents, Gates received a notice of loan default that listed a sale date for her home. She said bank officials assured her that it was a mistake and that her home wouldn't be sold.


However, after receiving and quickly returning the completed program documents in November 2008, Gates said she received a notice to vacate her home because it had been sold.


"Now I'm in a total panic, it was like the world just shifted for me," said. "I reached out for help, and these people sold the house when they told me they wouldn't."


Gates said that bank officials agreed that if she paid $40,000, they'd put her payments back to $4,200 per month and rescind the sale. She said a family friend agreed to give her the money if the bank provided a written statement of the agreed-upon terms. Gates, 51, said bank officials refused and abruptly withdrew their offer.


"She said, 'The deal is off the table, and we're not giving you back your house,' " Gates recalled. "I was just broken. That was my house, and it turned into something so awful."


When a complaint filed with the Office of the Comptroller of Currency went nowhere, Gates moved out in April 2009 and went to live with relatives. There wasn't enough room for her husband, Felipe, who lived in his car until January of this year.


"That was really hard to see," she said. "It took until May to get his health back in order."


Washington Mutual Bank, which was seized by the Office of Thrift Supervision in September 2008, was later sold to JP Morgan Chase.


Tom Kelly, a Chicago-based spokesman for Chase Bank, said he was unfamiliar with Gates' case and couldn't comment on her allegations.


Earlier this week, Gates told her story to a group of community and religious leaders who gathered outside a Chase Bank in Oakland, Calif. to urge the company to modify more loans for homeowners who are behind in their payments.


Kelly said that since the beginning of 2009, Chase has offered customers more than 860,000 mortgage modifications, and more than 224,000 were approved for permanent modification.


Gates and her husband now rent a condominium, thanks to deposit money provided by the Homelessness Prevention and Rapid Re-housing Program, a stimulus bill measure designed to keep families out of homeless shelters.


Gates now helps families that are struggling with predatory loans as an employee of the California Reinvestment Coalition, which advocates for the financial rights of low-income people.


Once embarrassed by her struggles, she now shares her story as a cautionary tale for others.


"Hey, this happened to me, and I'm not a stupid person," she said. "Once I shed the cloak of shame, it empowered me."


• • •


On The Web

California Reinvestment Coalition study on mortgage modifications
National Community Reinvestment Coalition survey on MAMP program
Home Affordable Modification Program report
Tell a Friend
•
Site Map
•
Print this Page
•
Email Us
•
Top