Puerto Vallarta Real Estate
Mexico Housing Recovery Signals Gain for Homebuilders

Jens Erik Gould & Jonathan J. Levin - Bloomberg
go to original
July 13, 2010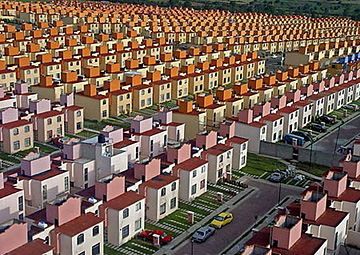 Ixtapaluca, Mexico
Consorcio ARA SAB Chairman German Ahumada Russek says the 2009 recession caused revenue at the Mexican homebuilder to stall. As the economy improves this year, he expects total sales will increase 10 percent.


"There's practically no inventory in Mexico City," said Russek, chairman of the country's third-largest homebuilder by market value, in a telephone interview from the Mexican capital two weeks ago. "People are definitely a lot more optimistic now that employment is recovering."


Homebuilders are poised to rally as Mexican jobs rise to a record and government-subsidized mortgages boost demand, according to Alejandro Garza, a money manager at Emerging Markets Management LLC, and Ben Laidler, head of Latin America strategy at JPMorgan Chase & Co. This year through yesterday, the Habita index of six Mexican homebuilders including ARA, Urbi Desarrollos Urbanos SAB, Desarrolladora Homex SAB and Corporacion GEO SAB has fallen 15 percent, more than the 0.8 percent drop in Mexico's benchmark IPC Index.


"We are very bullish on the housing sector," said Garza, who helps manage $12.7 billion in equities at the Arlington, Virginia-based company. "The uptick in the domestic economy should also be very favorable for the homebuilders."


Jobs may surpass the record 14.48 million this month, Labor Minister Javier Lozano said, as Latin America's second-biggest economy recovers from a 6.5 percent contraction in 2009, the steepest slump since the 1930s. Mexican Finance Minister Ernesto Cordero said in an interview last week that the government may increase its 4.1 percent growth forecast for this year.


Year's Job Growth


Mexico added 513,373 jobs in the first half, reaching the central bank's forecast of 500,000 to 600,000 new positions for all of 2010, after losing 181,271 positions last year. The data in Mexico include only jobs that guarantee pension and health benefits and require workers to contribute to the housing agency.


Economy Minister Gerardo Ruiz Mateos said in an interview last month that Mexico probably will add about 750,000 jobs this year by boosting manufacturing sales to the U.S., which buys about 80 percent of its exports.


Joblessness in Mexico declined to 5.1 percent in May after reaching 6.4 percent in August 2009, the highest since records began in 2000. In Brazil, the unemployment rate rose to 7.5 percent in May from 6.8 percent in December, the lowest since records began in 2001.


The Habita index was trading at a 19 percent discount relative to the IPC index yesterday. The two indexes on average traded at a similar valuation during the past five years.


Impatient Buyers


The MSCI Mexico/Consumer Discretionary Index, which includes Homex and Urbi, will outperform the broader IPC index this year, said JPMorgan's Laidler. The IPC will rise 20 percent to 38,500 by year-end, he said. He doesn't have a forecast for the Habita index of homebuilders. Urbi will gain 51 percent to 37 pesos by the end of the year, Laidler forecasts.


Urbi rose 1.2 percent to 24.45 pesos at 9:37 a.m. New York time in trading on the Mexican stock exchange. Homex advanced 0.3 percent to 57.80 pesos, while GEO climbed 1.2 percent to 33.80 pesos and Consorcio ARA was little changed at 7.97 pesos.


Alma Beltran, a spokeswoman for Urbi, Mexico's largest homebuilder by market value, didn't respond to requests for comment. Alejandro Haiducovich, a spokesman for GEO, the country's third-biggest homebuilder, declined to comment.


Housing Demand


Ahumada of Consorcio ARA said overwhelming demand caused his company to lose sales in recent months when agents told customers there was a six-month wait for some new developments in the capital to be completed. Demand remains slow in some parts of the country, such as tourist destinations and areas where drug-related violence is high, he said. Total sales increased 2.2 percent in 2009, according to company reports.


Sales at Homex will increase as much as 14 percent this year, following a 3 percent gain in 2009, Chief Executive Officer Gerardo de Nicolas Gutierrez said in an e-mail. The company, Mexico's second-biggest homebuilder by market value, added 2,000 jobs in the first quarter, he said.


"The improvement in job creation and recovery has a positive impact on domestic demand and consumer confidence," Gutierrez said. "That has a positive impact on the consumption of goods and services such as housing."


The jobs recovery is giving the government's housing agency, known as Infonavit, more capital to provide mortgages, Homex Chief Financial Officer Carlos Moctezuma said on a conference call last month.


Regional Jobs Growth


Mexico's job growth still trails that of Brazil, which forecasts 2.5 million jobs this year. Mexico has added 819,953 jobs since President Felipe Calderon, who campaigned as the "president of employment," took office in 2006. Brazil, with double the population of Mexico, created 5 million jobs in that period.


There are signs that consumer demand still lags behind the broader economic rebound. Retail sales unexpectedly fell 0.1 percent in April from a year earlier.


Mexico's economic growth probably will be less than in Brazil, where the central bank expects a 7.3 percent expansion this year. Peru's central bank expects growth of 6.6 percent, while Colombia's government forecasts 3 percent.


Mexico had a housing crisis after the peso devaluation in 1994 sent interest rates surging, causing widespread defaults. There's little risk of a bubble similar to the ones in the U.S. and U.K. in 2006 and 2007 occurring now because homebuilders and banks learned their lesson in the 1990s, said Carlos Hermosillo, an analyst at Mexico City-based brokerage Vector Casa de Bolsa SA who covers 12 homebuilders and infrastructure companies.


Housing Shortage


At the end of 2009, Mexico had a housing shortage of 8.9 million units, according to the latest report from the agency in charge of developing Mexico's mortgage market, Sociedad Hipotecaria Federal. The figure is the broadest measure of housing needs and includes families without a residence as well as those living in homes that are overcrowded or in ill-repair.


In the U.S., the number of contracts to buy previously owned homes plunged 30 percent in May from the prior month, the biggest decline in records dating to 2001, the National Association of Realtors said July 1. A collapse in the subprime mortgage industry, as well as reduced consumer confidence, has weakened demand for real estate.


Jorge Alberto Moreno, a Mexico City resident who was hired last year by Samsung Electronics Co., said the economic rebound is providing him with security. He plans to purchase a new home with his wife and son in the next year.


"We're leaving the crisis behind and the situation is a bit more stable," said Moreno, 32, who works in Samsung's marketing department. "This gives us more confidence to make these kinds of decisions that you wouldn't make otherwise."

With assistance from Thomas Black in Monterrey, Iuri Dantas in Brasilia, John Quigley in Lima and Helen Murphy in Bogota. Editors: Brendan Walsh, Brenda Batten


To contact the reporter on this story: Jens Erik Gould in Mexico City at jgould9(at)bloomberg.net; Jonathan J. Levin in Mexico City at Jlevin20(at)bloomberg.net


To contact the editor responsible for this story: Brendan Walsh at bwalsh8(at)bloomberg.net
Tell a Friend
•
Site Map
•
Print this Page
•
Email Us
•
Top