News from Around Banderas Bay
High Season for Big Game Fishing Hits Vallarta Fishing Grounds, Pro Anglers Flock to Vallarta

Stan Gabruk - PVNN
August 25, 2010

Ok Folks, High Season for Fishing kicks in NOW! By the end of August we see the tournaments kick in as our world famous fishing grounds once again defend their place on the list of best fishing spots in the world.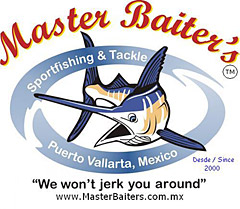 When it comes to Black Marlin, Monster Yellowfin Tuna, Sailfish, Dorado, Rooster Fish (and the impressive list goes on) PV has you covered with plentiful and abundantly packed fishing grounds! September begins the highest of Sportfishing's high season.


You will now see famous fishing publications like Marlin Magazine or ESPN's fishing programs around the docks in the Village of Marina Vallarta. Heading out to Corbeteña or El Banco, these crews will get the stories you will be reading about next fall and winter. Now you can read about them / watch someone else catch your Marlin or you can live it! No Excuses...


Those with the bones and the bucks will find Monster Yellowfin Tuna well over 250 lbs., Black Marlin over 850 lbs, Striped Marlin, Blue Marlin, Rooster fish as big as 70 lbs, Cubera Snapper in the 50 to 75 lb range, Dorado and of course Sailfish! The options are endless when it comes to our Emerald Bay of Banderas.


Starting at El Banco we've seen some strange conditions as late. Black Marlin, Blue Marlin, large Cubera Snappers in the 45 to 65 lb range are all hanging out at this Marlin McDonalds! Yellowfin have been in the area and large, anywhere from 100 to 250 lbs. But you better be patient, it's been an "on / off / on again" situation that will drive you a little crazy.


Magnifico came in last week with a Yellowfin from nowhere. No boils, no other YF Tuna in the area, yet a 100 lb Yellowfin Tuna hit a dead trolled bait. It was a surprise, but one we can live with. It appears the water temperatures are warming to the point of driving the YF Tuna down to cooler water temps. Using Google Eyes, you'll entice them if you are in the right area and at the right depth.


Use those expensive electronics to see where the temperature change is and set your down riggers to that depth. It should increase your luck. Also, early in the day may be your best bet right now as well if hunting YF Tuna. With the area thick with Skip Jack Tuna, bait is not an issue. Remember things can change in a heartbeat, so keep up with the reports or feel free to call or email me for the latest and greatest.


Corbeteña is pretty much the same story as El Banco. Black Marlin in the ridges before you come to the Rock seems to still be the secret to boating this Big Beautiful billfish. Sailfish are also in the area. Cubera Snappers have been thick in both locations, but more so in the trenches around the islands.


Again, nothing fancy, just a trolled chorra or Skip Jack will do the trick. Again, don't be afraid to use that down rigger and keep an eye on the sounder / fish finder, make that thing do its job! The water is clean, that's a plus and the season has been hurricane issue free so far for the year. Corbeteña is the best bang for your fishing buck at the moment.


If you've been thinking of heading out for some Rooster Fish, well, they're back. If you are in the Sayulita area or a little north, these fierce fighters have been running anywhere from 35 to 65 lbs of arm breaking action.


The Marietta Islands have exploded with these beauties. There are also good sized Amber Jacks, Snappers, Needle fish and Dorado if you can find a log or something of that nature floating around the area. But the Dorado this year have not been much over the 25 lb range. You can point a lot of fingers, but that is the case at the moment.


Rooster Fish are also enjoying the abundant bait in the water, so if you are looking for a shorter day and a better fit for your vacation budget, then an 8 hour trip to the Marietta Islands is a great option.


Like I said, the Sayulita area is seeing an explosion in Rooster fish and that is not all. Sailfish are setting up house and anywhere from five to fifteen miles off shore you'll find these babies. It is still a little early in the season for Sailfish to start showing up in larger numbers. Sailfish are always in the area, even in the winter, but come the end of September the population explodes. So nothing strange or unusual to report here as yet...


Inside the bay has been a little strange lately. The area by Yelapa has been seeing a steady stream of Skip Jack Tuna up to 20 kilos or about 50 lbs. Not a small fish and frankly this area has had better action than many of the other deep water fishing ground. The bay is clean and dirty, depending on where you are.


There are also a lot of Snappers and Needle fish in the shore areas with structure. Roballo like always at the river mouths. Jack Crevalls are still strong and willing to take your baits should you choose to present something to them!


A four or six hour fishing trip will put you in the thick of the action and you can fin d some great deals in this time frame on smaller boats with us at the moment. If you are at the other end of the bay, same thing. The area in front of the hotels in Nuevo Vallarta have been alive with action and again, for a short day, you can't go wrong. Seems to be mostly Skip Jacks and Jack Crevalls right now.


The Fourth Marlin and Pez Vela Tournament was a little disappointing with smaller fish than we normally see for tournament winners. Visit RivieraNayaritFishingTournament.com for additional details. There were 26 boats as I understand it in the tournament this year, which is proving to be a well managed and fun tournament out of La Cruz de Huanacaxtle.


Remember we have the 54th Pez Vela Tournament coming up in Marina Vallarta. You can come in and catch all the action in the Village at Marina Vallarta by Brandos Bar. So mark November 10th-13th on your calendar. The website is not updated as yet, but you can bookmark their website FishVallarta.com and watch for details as they come available.


If you are true Big Game Fisherman, forget the cost, forget the heat, forget the humidity, get your butt on a boat and have a "Bucket List" day on the water enjoying the pinnacle of World Class Sportfishing here in affordable Puerto Vallarta!


I know the economy is bad in the Northern Americas, I know you all are hurting and licking your wounds. You invested in banks, financial institutions, houses and stocks. Everyone of these financial avenues has come up short at best. Invest in yourself, your memories and check off at least one thing on your "Bucket List."


Remember, you can always make another dollar, but you will never be able to make another day! You can't turn the clock back or stop the sands of time. But hey, this is the way I think, I've been wrong before. If you are truly interested in fishing and you have a short budget, I will make sure you get out there for less money than a round of golf, I won't jerk you around, amigos.


The kids are back in school, the family travel days have come to an end for Mexican Nationals and North Americans alike as summer ends for the seasonal traveler. As many shops close for the next month, the town is slower, quieter and has a siesta feel.


This is the real Mexico, the Real Vallarta. No crowds in the restaurants and the beaches are wide open with no issues of being served a cold beer. The peso exchange rate is favorable, the hotels are pushing deals and air fares are dropping like a rock as the locals prepare to party.


If you have never spent a summer in Vallarta, you will never understand Vallarta's core. There is a strange fellowship amongst those in PV at this time of the year. This is when we can kick back, relax and get out batteries recharged as we get ready for the next tourism high season. But for now, it's time to enjoy the best that Vallarta has to offer.


Welcome to Puerto Vallarta, My favorite place in the whole world! Also remember, if you mention you read my blog, article or are a Facebook friend, I will give you a nice discount!


Until next week, don't forget to kiss your fish!

Stan Gabruk is the owner of Master Baiters Sportfishing and Tackle in Marina Vallarta. He came to Puerto Vallarta for a brief, three-week vacation and never left. You can find Stan at his Master Baiters Sportfishing shop in Marina Vallarta, located on the boardwalk down from the lighthouse next to Tikul Restaurant. For more information about fishing in Puerto Vallarta, visit MasterBaiters.com.mx or email Stan at Catchfish(at)MasterBaiters.com.mx.

Click Here to learn more about fishing in Puerto Vallarta with Master Baiter's.
Tell a Friend
•
Site Map
•
Print this Page
•
Email Us
•
Top