Vallarta Living
Building a Future for Children of the Dump

Adriana Janovich - Yakima Herald-Republic
go to original
August 16, 2010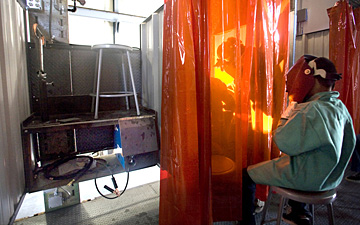 Efrain Araujo, 10, watches as instructor Ruven Garcia, center, helps Evan Colacci weld inside one of the six welding bays in a moving van-turned-welding site Aug. 5, 2010. The welding site, constructed by MBI Construction, will be trucked to Mexico where it will be given to a school for training welders. Garcia is from Mexico and will be teaching welding using the site. Garcia was teaching some welding to the youngsters as part of a trial run for the site. (Gordon King/Yakima Herald-Republic)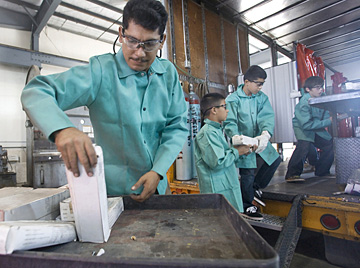 Ruven Garcia and his welding students load supplies Aug. 5, 2010 into an old moving van that has been converted into a six-station portable welding site by MBI Construction in Yakima. The truck will be donated to a school in Mexico where it will be used to train future welders. Garcia is from Mexico and will be an instructor for the welding site. (Gordon King/Yakima Herald-Republic)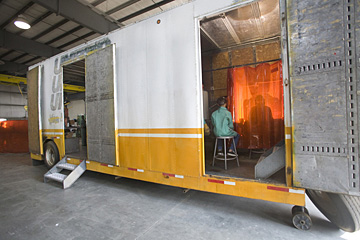 An old moving van has been converted into a six-station portable welding site by MBI Construction in Yakima, Wash. Nathan Saiz, 11, watches as another youngster welds inside one of the six welding bays Aug. 5, 2010. The truck will be donated to a school in Mexico. (Gordon King/Yakima Herald-Republic)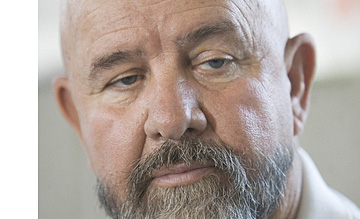 Steve Menard owner and president, MBI Construction
Yakima, WA - Steve Menard has been going to the coastal city of Puerto Vallarta, where he has a time share, twice a year for the past six years.


He goes mostly for the golf. And to get away.


While he's on vacation, it's not unusual for him to bring extra flip-flops, coloring books, Crayons, other toys, even "small" cash donations, to give to Mexican orphanages.


But this year's gift is different. It's bigger. An investment.


And Menard, president and owner of MBI Construction in Yakima, is hoping it might change the course of the lives of the "Children of the Dump," a name for kids whose families live near the municipal garbage pile in one of the resort city's poorest neighborhoods.


His vision: Build a mobile school where middle school-age youths in Mexico can learn basic welding skills, skills that might help them land entry-level jobs and propel them toward a better life.


To illustrate the idea, Menard mentions an old saying: Give a man a fish, you have fed him for today. Teach a man to fish, you have fed him for a lifetime.


He wants to build on that idea.


"I'm trying to give them a pole and a boat," he says. "We're going to teach kids the basics. Our hope is to change some people's lives."


Known for its beaches, Puerto Vallarta is an international tourist destination. But there's a side to the city that many tourists never see. There are neighborhoods without running water. There are children who forage with their families, searching the city dump for items to sell in order to support themselves.


Some "are taken by drugs (and) the child sex business" and most are 10 to 13 years old, says Ruben Garcia, a maintenance worker with Feed the Children Vallarta, an outreach group formerly called Children of the Dump.


"All of them have potential. They just need pushing," he says.


Menard, who's Catholic, wants to help give them that push. He and his company are partnering with Feed the Children Vallarta.


The outreach, formed in 2000, serves about 200 youths per day. It runs a meal program, school and day care for some of the neediest children of Puerto Vallarta.


Soon, it will also offer elementary welding. And Garcia, who was there for two weeks earlier this month, will serve as the instructor.


"I hope they receive this introduction to this work and use it to have good work and a chance to live well," he says of future students.


This summer, Menard has been paying a couple of employees to turn a used 32-foot by 8-foot trailer into a welding school on wheels. In a warehouse at 2016 Fruitvale Blvd., they've been converting the trailer, which is now complete with six welding stations, storage space, even an office for the instructor.


Menard, 63, first heard the term "Children of the Dump" during a Mexican golf vacation three years ago. Two years ago, he went looking for them. He hired a taxi to drive him around Puerto Vallarta, which sits on the Pacific Ocean's Bahía de Banderas, or Bay of Flags.


Back home in Yakima, he found the organization's website and called a local contact. He visited Children of the Dump for the first time in fall 2009. He went back in February.


Between those visits, after a regular Sunday Mass at St. Joseph Parish, he got the idea for the rollaway welding school. He doesn't remember the specific sermon, only that "something clicked."


"I just thought instead of handing over money, why not teach people skills?" he says.


"Most manual laborers make $6 a day down there. A construction worker can make $45 to $120. That's my research anyway," says Menard, who eventually would like to see the mobile welding school replicated. "This could work all over the world."


Menard already helps out here in Yakima. Once a week, he volunteers with youths in juvenile detention. And his company - which specializes in large-scale government and industrial projects, like repairing the mechanical or electrical systems of bridges and dams - supports local youth sports teams and scholarships for students who attended the same schools he did: Barge-Lincoln Elementary School, Washington Middle School and Davis High School.


"Our company's been blessed over the years," he says. "We do a lot in the Valley. But there's more we can do. I want to pass the blessing on. I want to share."


So far, Menard estimates he's put more than $16,000 into the mobile school project. And he expects to put in a total of about $25,000 before it's finished. In fact, he plans to support the program with $200 to $300 a month for the next year or two until it gets off the ground.


Other local companies have helped, too. In addition to MBI - which does construction, electrical, metal fabrication and heating, ventilation and air conditioning work - they are Yakima Steel Fabricators, Edge Construction Supply, Fastenal Co., Magic Metals, Yakima Welders Supply Inc., Platt Electrical Supply Inc. and Consolidated Electrical Distributors.


Before the end of this month, Menard hopes to send the trailer to the border town of Nogales, Ariz., where personnel from the outreach will pick it up and haul it the rest of the way.


Meantime, it needs to be painted, and a desk for the instructor's office needs to be built.


In October, Menard plans to travel to Mexico to see the new portable welding school in action. He got a sneak peak earlier this month when Garcia visited to learn his way around the stations and practice training would-be welders.


Two of Menard's grandchildren - 12-year-old Evan Colacci of Niagara Falls, Canada, and 13-year-old Morgan Sugden of Yakima - participated in the practice run. So did the son and grandson of a couple of his employees.


"I thought it would be really fun to hang out and learn new things," says 10-year-old Efrain Araujo, who shares the same name as his dad, a 15-year veteran employee at MBI. Growing up in Michoacán, Mexico, the older Araujo says he could've used a welding school on wheels like the one he's been helping build.


A similar job-training program would've given his career a head start, says Araujo, 40. He sees the mobile welding school helping kids like the one he once was: "I hope they learn a lot."

Adriana Janovich can be reached at ajanovich(at)yakimaherald.com.
Tell a Friend
•
Site Map
•
Print this Page
•
Email Us
•
Top