The Spice Girls in Puerto Vallarta?

Alex Gomez - PVNN
August 31, 2010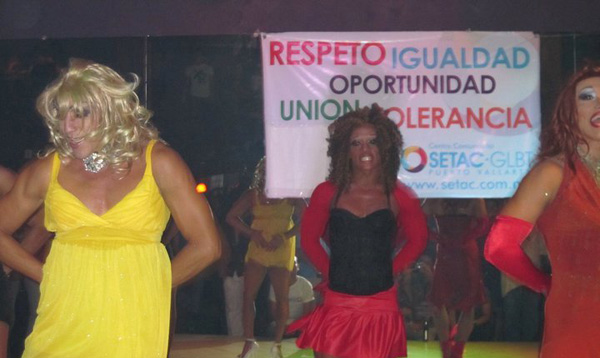 Turns out that 'The Spice Girls' were Darudha Productions' Jacobo y Bailarines, who, along with other local performers entertained the crowds at the SETAC-GLBT Community Center fundraiser held at Paco's Ranch on August 24th.
I wouldn't have believed it, if I hadn't seen it with my own eyes. The Spice Girls, otherwise known as the Fab Five, performed at Paco's Ranch last Tuesday. They reunited for a special fund-raiser for SETAC, Vallarta's first ever - nay, Mexico's first ever - Community Centre for LGBT people.


"What's that, Paco?" Paco Arjona, the director of the community centre, is shouting something to me over the enthusiastic holler of the crowd, during the Fab Five's spectacular performance, "They're not the Spice Girls? They're Darudha Productions' Jacobo y Bailarines (Jacobo and dancers)? Are you sure? The one in the middle is definitely Posh Spice! She has no hips! What's that you say, Paco? She's a man, they're all men? Have you lost your mind?"


It turned out that Paco was right: It was a group of men acting like the Spice Girls. Just like most of the other performers at this event: from Paco's own Cassandra, masquerading as Diana Ross, to Yuri, the singer much beloved by gay men until she was born again and rejected them; then, as soon as she found herself without an audience embraced them again, with her hair even more bleached than before. She was performed by Paco's Ranch own Benito.


Amanda Miguel, with her sultry black eyes and black curly hair, singing that her man lied to her, was in reality none other than Club Picante's manager, Jose Manuel. And Rubi, telenovela star cum performer, was really Club Picante After's Jenny Rivera. Delicious was performed by La Noche's Carlos Caso, and the performance that emulated Frida Kahlo, came from, fittingly enough, Bar Frida, performed by Mario and his ballet. Lucha Villa, manly enough as she is in her mariachi outfit, was played by Carla Fifi, or simply Fifi, sexy and outrageous comedian/comedienne from Blue Chairs' Rooftop Bar. Hotel Mercurio, perhaps unable to find an appropriate female star, instead provided Isaac and his enthusiastic striptease.


The event was a tremendous success that garnered much-needed funds for SETAC, a not-for-profit foundation. As such, SETAC, its staff, volunteers, and Board of Directors would like to thank especially Paco's Ranch, Hotel Mercurio, Club Picante, Darudha Productions, Bar Frida La Noche and Vallarta Cora for contributing not only their managers' fabulous drag shows, but also for their friendship and support.


The SETAC Community Centre has a spacious site from where it can offer recreational, cultural, educational and social activities. Soon it will be able to offer pastry and theatre classes, but at the moment the activities and classes they offer are listed below:


Basic English classes: Mon, Wed and Friday 6:00 p.m.
Intermediate English classes: Mon, Wed and Friday 10:00 a.m.
Movie Night: Tuesday at 7:30 p.m.
Reiki Therapy: Mon, Wed and Friday 9:00 p.m.
Yoga classes: Mon. 8:00 a.m. and Wed. 9:00 a.m.
English AA: Wed. and Sun. 11:00 a.m.
Arts and Crafts: Friday 5:00 p.m.
Counselling, HIV and syphilis testing: Daily from 10:00 a.m. to 2:00 p.m. and 4:00 p.m. to 8:00 p.m.


If you would like to donate to SETAC, or volunteer, or otherwise assist in making Vallarta a more accepting place and a more peaceful society, please contact SETAC at the corner of Constitucion St. #427 with Manuel M. Dieguez St. in Old Town, or the South Side. If you prefer, you can send an email to hola(at)setac.com.mx, or you can telephone (322) 224-1974.
---

The purpose of the SETAC Puerto Vallarta Gay, Lesbian Bisexual and Transgender (GLBT) Community Center, located at Constitucion #427 on the corner of Manuel Dieguez, is to provide essential services to the GLBT community, including support in recovery from alcoholism and other afflictions, physical and mental health treatment and referrals, education and recreation in an atmosphere of safety, free from discrimination. For more information, contact Paco Arjona at (322) 224-1974 or paco(at)setac.com.mx.


Click HERE to learn more about Centro Comunitario SETAC-GLBT.

---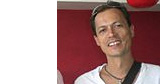 Alex Gomez is an award-winning writer. he's written numerous short stories, hundreds of non-fiction articles and two serious novels. Writing makes him happy and nothing can kill him now.

Click HERE to read more articles by Alex Gomez.