News from Around Banderas Bay
Vallarta is Alive with Color!

PVNN
September 14, 2010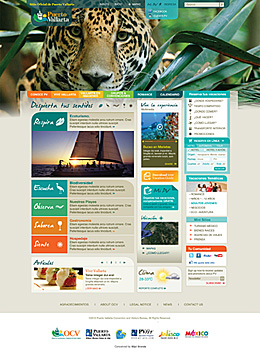 Click image to enlarge
The CVB of Puerto Vallarta is betting on the Internet for 2011. The city's official website, VisitPuertoVallarta.com is being redesigned and developed by Mijo! Brands.
The Conventions and Visitors Bureau of Puerto Vallarta (called 'OCV' in Spanish) has something to celebrate in this Bicentennial celebratory month. The Board of Directors met for a breakfast meeting in Hotel Velas Vallarta to present the achievements of its organization this year.


Present at the informative meeting were various members of the board, presided by President Dennis Whitelaw. The Directors of the OCV are Gabriel Igartúa of the Tourism Board, host of the event, Luis Angarita, representatives from the municipal and state Tourism offices, Jose Luis Díaz Borioli and Ludwig Estrada from SETUJAL, as well as the different Presidents of Associations present on the Board: Luis Angel Cantú for ADEPROTUR, Salvador de Aguinaga of the Hotel Association, Marcelo Alcaráz for AIHEET, and Carlos Gerard, President of CANACO.


The OCV gathered with the press to share the progress made to achieve one of the three principal objectives set out for 2010-2011 through their continuous efforts: 1) Additional air routes to Vallarta, 2) Increase presence on the Internet and 3) Attract groups by sponsoring important events for the city.


In a presentation OCV's Commercial Director, Antonia Lavender, demonstrated the strategic objectives of the Board, essentially, bringing more visitors and affluence to Puerto Vallarta through having Tourism Year Round.


One of the commitments was to solicit support and the public opinion from business leaders in the community and find solutions to the objectives supported by the OCV. Ms. Lavender has made over 200 interviews, informal meetings and presentations with various members of the community, and through their comments and contributions has detected various opportunities to support their needs. She also noted that an incredible amount of effort was being made by each company individually to promote Puerto Vallarta.


As a result of these interviews, Ms. Lavender discussed the idea of promoting Puerto Vallarta as a first class destination while reining in the collective support of all the sectors of the community for a single common objective with the Board. "The Secretary of Tourism for Puerto Vallarta, José Luis Díaz Borioli was pivotal due to his support for and recommendation of the need to fortify our position in electronic media with a new image on the Internet."


Puerto Vallarta operates with a limited budget for promotion in comparison to other destinations which have up to 10 times the spending for publicity.


"We decided that the best way to compete on the same level as similar destinations such as Hawaii, Cancún and the Caribbean, was through the cybernetic media to efficiently increase exposure and compete on a level playing field, which is why we proposed a change in design of our official web page."


Consequently, Fidetur awarded the OCV with a management contract for the official sites of Puerto Vallarta, VisitPuertoVallarta.com and VisitaPuertoVallarta.com.mx thanks to the support of its President, Gabriel Igartúa, whose commitment provided the necessary funding to make this project a reality.


The OCV conducted a solicitation process which was extensive and meticulous, including over 18 agencies from the US, Mexico and Canada. The agency that was selected is proudly local, whose talented, young owner was born in Puerto Vallarta and educated in Canada and Great Britain.


Daniel Gómez and his dedicated team of programmers, designers, marketing specialists and technicians apart from being notably connected to the needs of our community presented a Project that surpassed the other finalists if not for their design, ideas and bilingual capabilities, for their passion for Puerto Vallarta.


There were many volunteers who dedicated not only their knowledge and expertise, but their time and commitment to this process and contributed enormously to defining the scope and dimension of this project. Among them were systems operators, business owners, marketing specialist and programmers. They will be recognized on a special page for a limited time only in the Board´s gratitude.


The project proposed and developed by Mijo! Brands is a website incorporating elements of interaction, multimedia and social media; visually attractive with vivid images of real experiences, informative articles embodying all that locals and foreigners could want to know about what Puerto Vallarta has to offer.


The job board service, listing of events, news, shopping, medical and sports information for example, demonstrate the items that may be attractive to long term residents. An interface with booking engines allows one to make dinner reservations, reserve a tour or book a flight to Puerto Vallarta online.


The website also can save the information a visitor is interested in such as hotels, restaurants, tours or articles by means of a vacation planner. The data can be forwarded to friends or printed for future reference.


At the end of the event, Leading Web Strategist for Mijo! Brands, Ramon López, offered a brief demonstration of the progress in the design of the site and displayed an impressive sample of design, cutting edge programming, videos and images in vibrant colors.


"This website, its content and imagery, is a response to the needs of Vallarta residents and businesses to showcase their services - and this is accomplished here without compromising the official aspect of the site. This is exactly what businesses have been asking for."


The OCV is a non-profit organization, whose efforts are to compliment and fortify the initiatives of the Fideicomiso of Tourism (the Tourism Board). The OCV can receive private funding, which allows for those funds to be channeled into investments to sustain reinvestment objectives such as: opening new airline routes and directing more groups and conventions to the destiny, among others.


Turismo Todo el Año (tourism year-round) is a slogan the OCV has been using to direct their objectives. The website goes beyond seasonal campaigns, allowing exposure to more people year round, amplifying its potential market and directing interesting events and activities to diverse segments of the market: young adults, families with children, foreign retirees, and weekend travelers, groups, all with more buying potential. The entire community must attract continuous touristic opportunities to equalize the balance of occupancy between the high and low seasons.


"Puerto Vallarta, a fusion of emotions and experiences, that overwhelm and seduce" is the prominent message in the brochure for the website. Mijo! Brands explains that this is the sum of definitions offered by an ample sampling from citizens on a questionnaire about how they perceived Puerto Vallarta.


"The benefits of this site are for everyone, and it requires everyone to give it life. Puerto Vallarta comes to life with color... and every vallartense should take out their paintbrush and begin to paint." Antonia Lavender of the OCV encourages citizens of Puerto Vallarta to participate in this marvelous project. "We are convinced that this is a vital promotional vehicle for our destination. And this is a great opportunity to participate and benefit from the other projects planned for the destination such as more airline routes and sponsorship of important events."


The Puerto Vallarta campaign has included the website in their program for all future publications, giving it a hefty publicity push.


The OCV will continue to visit business owners to encourage them to participate in this effort and benefit from the increased exposure the website will give them.


The advertising brochure states "Súbete al sitio de los Vallartenses y haz crecer tu negocio" inviting businesses to join the website and build their business. Characteristics, benefits and virtues of the site are presented along with a display of the different packages available to invest in. Businesses small and large can display their services through photographs, descriptive texts, maps, links, logo and thumbs up in Facebook. Some sectors, such as restaurants, hotels, tours and airlines are even able to have visitors to their site book straight from their ad.


Mijo! Brands also commented that the site is currently going through the testing process and they hope to launch by mid-October. It is also a bilingual/bicultural site being designed in both English and Spanish.


For more information, call OCV Commercial Director, Antonia Lavender, at 322-145-1702, send an email to antonialavender(at)hotmail.com or visit VisitPuertoVallarta.com.

Tell a Friend
•
Site Map
•
Print this Page
•
Email Us
•
Top