Vallarta Living
PEACE September News and Events Schedule

Gretchen DeWitt - peacemexico.org
September 03, 2010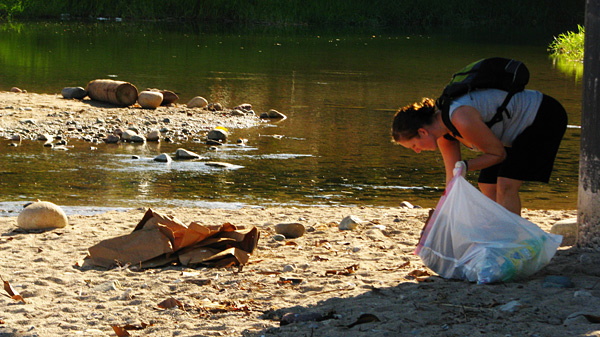 This month, PEACE is continuing their clean-up projects along the Rio Cuale and on the beaches of Puerto Vallarta. If you'd like to help, please contact Nicole at nicole(at)peacemexico.org.
Pale veils of rain over a long silver slash of water on the edge of the horizon. Tangerine sunsets streak through dark curdled clouds. On a bright breezy day following a crashing thunder and lightening storm, the soulful music of singer Vicente Fernandez wafts through the air on my cobbled street. Ranchera music glorifies rural ranch life, revolution and romance. It is music from another time.


This year, Mexico is celebrating "Año de la Patria" (Year of the Nation). It has been two-hundred years since Mexico gained its independence and one-hundred years on September 15th since the "Grito" was made by Miguel Hidalgo, calling for insurrection against the Spanish colonial government. President Calderon has commented that this is a time for Mexicans to not only celebrate the past, but to contemplate the future.


Something To Celebrate


Some Mexican friends of mine have asked what there is to celebrate. On August 19th, Mexico City became the second large metropolitan area in the Western Hemisphere to outlaw plastic bags. San Francisco was the first in 2007. Businesses are no longer allowed to distribute thin plastic bags that are not bio-degradable. The law affects all stores, production facilities and service providers within the Federal District.


Plastic bags are the greatest form of litter in the oceans and a major threat to marine life. An estimated 100,000 sea turtles have died after ingesting transparent plastic bags. In water, these bags resemble jelly fish, a primary food source for turtles. Each plastic bag one picks up near the Bay may save a marine creature's life. Water, like air, is not a renewable resource.


PEACE Clean-Up Schedule


Clean up sessions last one to two hours. Gloves and bags supplied. If you would like to participate, please join us in front of Oscar's Restaurant, right near the bridge on the Malecón where the Rio Cuale meets the ocean, at 9 am on the following dates:


Sunday, September 12th
Saturday, September 18th
Sunday, September 19th
Saturday, October 2nd


Upcoming Schedule for PEACE Spay and Neuter Clinics in Puerto Vallarta:


September 8-11 - Mojoneras
September 5-18 - Progreso
September 22-25 - Pitillal
September 28-October 2 - Cuapinole


October 6-9 - Lomas de Cuapinole
October 13-16 - Playa Grande
October 20-23 - Santa Maria


Volunteer Training Clinic


A Volunteer Training Clinic, taught by Molly Fisher and Nicole Majewski is scheduled to take place in Pitillal on Wednesday, September 22nd and Thursday, September 23rd. Classes are limited to a maximum of 8 persons, so if you would like to participate, send an email to nicole(at)peacemexico.org TODAY!


No matter what the task, volunteer involvement has a direct impact on our community. To learn how you can make a difference, or to volunteer for PEACE clinics or beach clean-ups, please contact Nicole at nicole(at)peacemexico.org or call Lalo at 044-322-141-1031 or Paulina at 044-322-102-3327.
---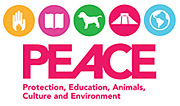 PEACE: Protection, Education, Animals, Culture and Environment, is a nonprofit organization established in 2005, made of four main programs which focus on education, entrepreneurship, animal well-being, and community engagement in the coastal regions of Nayarit, Jalisco and Quintana Roo, Mexico. Through innovative and community based programs, PEACE is working to improve the quality of life in local communities throughout the Bahía de Banderas. For more information, please visit PeaceMexico.org or click HERE to read more about PEACE
Tell a Friend
•
Site Map
•
Print this Page
•
Email Us
•
Top