PEACE Members Invest in Community

Becci Burchett - peacemexico.org
September 06, 2010

Punta de Mita, Nayarit - Local non-profit PEACE has launched a membership program, providing an easy, beneficial way for businesses and consumers to give back to local communities throughout the Bay.


Discounts have been created by various cafes, restaurants, shops and activity centers, identifiable by a "PEACE Friendly Business" sticker, which are valid for one year. Residents and tourists are able to purchase a membership card for $300 pesos ($23 USD) and receive discounts from participating businesses. The annual fees are invested directly into local communities through PEACE's four main programs that focus on education, entrepreneurship, ecology, animal well-being, and community engagement.


The PEACE membership program has drawn the following community conscious businesses thus far:


Babel Book Shop
Coral Restaurant
Famar
Frascati
Kensao
The Twisted Rose
Luna Luna
NAEF Cuisine
Pie in the Sky
Shamrock
Salon Diva's
Healing Hands Massage
Nacho Daddy
Davanna Yoga
PEACE Boutique
PEACE Home Tours


"With the array of discounts that are offered, this membership pays for itself quickly," said Peter Doering, PEACE member. "The program has great benefits for both businesses and shoppers. Who wouldn't want to join?"


For more information about how to purchase your membership or how to become a PEACE Friendly Business, contact becci(at)peacemexico.org.
---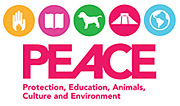 PEACE: Protection, Education, Animals, Culture and Environment, is a nonprofit organization established in 2005, made of four main programs which focus on education, entrepreneurship, animal well-being, and community engagement in the coastal regions of Nayarit, Jalisco and Quintana Roo, Mexico. Through innovative and community based programs, PEACE is working to improve the quality of life in local communities throughout the Bahía de Banderas. For more information, please visit PeaceMexico.org or click HERE to read more about PEACE