Vallarta Living
PEACE Reports Progress in Flood Recovery

Becci Burchett - peacemexico.org
September 21, 2010

Punta de Mita, Nayarit - As the rain finally lightens up and the sun graces us with its presence, many community members are partnering with PEACE, passionate volunteers and local NGO's (CVIS & Entre Amigos) to help in the recovery effort.

(photos by Nikhol Esterás Roberts)
Last Friday, September 17th, PEACE organized a group of 32 volunteers from all over the Bay of Banderas, who came together to help those in need! A group of 14 volunteers spent the morning cleaning up trash at the beach in Litibu and collected 30 jumbo trash bags full of plastic, glass, styrofoam, tires, barbed wire and more! The plastic and glass were dropped off at PEACE's bodega to be sorted and recycled.


Meanwhile in San Ignacio, 10 volunteers partnered with 7 local youth and the town judge and recovered over 100 plants and planter boxes buried in mud at Don Enrique's nursery, removed the mud covering the back side of Doña Andrea's home, and cleaned the playground at the elementary school.


On Saturday, the Puerto Vallarta 4x4 Club arrived at the Casa Campesina in Emiliano Zapata with seven truck loads of donations! This week, we will help Guamúchil by draining the septic tank at the elementary school as the rains have filled it up, thus causing an array of problems in the bathrooms at the school.


Thank you for your continued support and amazing donations! We have a project coordinator who meets with the town judges and community members weekly in order to assess the most vital community needs and, as a team, we are distributing the donations accordingly.

The current needs in the towns are:

• Dry and Canned Food
• Fans
• Kitchen Supplies
• Mattresses
• Sheets
• Chairs
• Small Electric Stoves
• Shoes for Adults and Children


We are still in need of monetary donations in order to purchase the supplies to rebuild the affected homes and communities. To donate, please visit PeaceMexico.org.

Long-term needs:

• Reconstruction of homes: Construction Supplies
• Construction Tools
• Bridge Repairs
• Street Repairs

Donation Collection Locations:

La Cruz de Huanacaxtle - Lori Wilson
Contact: (329) 295-5502, lori(at)wiloran.com
Collection points:
• Coral #8 esquina Huachinango, La Cruz
• Marina Riviera Nayarit


Bucerias - Sue Fornoff
Contact: (329) 298-2053, sioux4noff(at)aol.com
Collection points:
• Pie in the Sky, Heroe de Nacozari #202(lateral off Hwy 200) Bucerias
• Casa Tranquila, José María Morelos 7, Bucerias


Nuevo Vallarta - Laurie Ailworth
Contact: (322) 297-6564, lailworth(at)yahoo.com
Collection point:
• Vallarta Yacht Club, Paseo de los Cocoteros (next to Paradise Village Mall)


Puerto Vallarta Collections
• Calle de Belice #1468 - Col. Lazaro Cardenas
• El Sofa Café, Calle Carranza - (in front of The Deli & Papeleria Limon)
Contact: Sra. Amaranta, (322) 223-8446


Punta de Mita Collections
Hotel Quinta Del Sol, Hidalgo 162 PTE
Coordinators: Tanya Diaz (tanya.diaz(at)gmail.com) and Anibal Morales


If you would like to be part of this community effort, please contact Nicole Majewski at nicole(at)peacemexico.org or 322-182-3185 to learn how you can help. To make a donation, please visit PeaceMexico.org.
---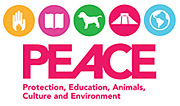 PEACE: Protection, Education, Animals, Culture and Environment, is a nonprofit organization established in 2005, made of four main programs which focus on education, entrepreneurship, animal well-being, and community engagement in the coastal regions of Nayarit, Jalisco and Quintana Roo, Mexico. Through innovative and community based programs, PEACE is working to improve the quality of life in local communities throughout the Bahía de Banderas. For more information, please visit PeaceMexico.org or click HERE to read more about PEACE
Tell a Friend
•
Site Map
•
Print this Page
•
Email Us
•
Top