Vallarta Living
¡Sí, Hablo Español!

Polly G. Vicars - PVNN
September 24, 2010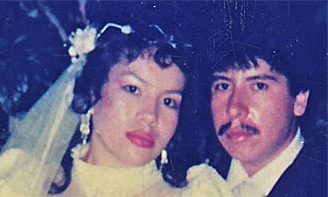 Melchor and Martha are wed at the Cathedral of Our Lady of Guadalupe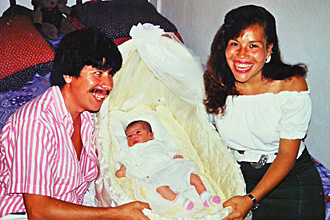 Baby Yesina is home safely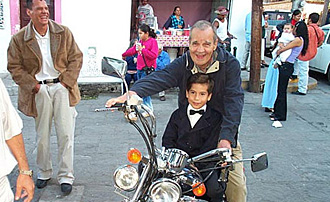 Alex's and Husband celebrate Alex's First Communion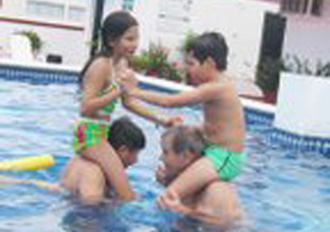 Husband and Melchor with Yesi and Alex having fun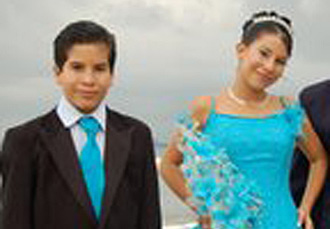 Yesi with brother Alejandro at her Quinceañera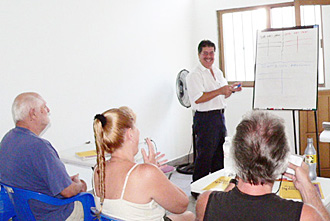 Maestro Melchor at work in his school on Calle Viena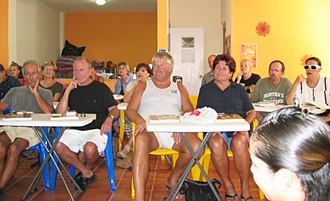 Students in class who now are some of Vallarta's best Spanish speakers
Almost every day, I say a silent, "Thank you Maestro Melchor" for having the ability and the patience to stick with me until I can say, "¡Si Hablo Español!" Learning a new language at my age has been a challenge that at times I thought I could not meet, but both Melchor and I persevere.


My Florida-Kentucky accent, even after twenty-two years in Puerto Vallarta, still comes through loud and clear in both English and Español. But the generous and kind Vallartenses overlook that accent, look underneath it and, most times understand what I am telling them.


And being able to know what they are saying is certainly an advantage when dealing with the Becas Vallarta scholarship students with whom I work so diligently, the telephone company, the local grocer, the venders on the beach and the policeman who stops Husband occasionally for driving a little too fast.


Husband and I began our Spanish lessons with Maestro Melchor within 2 weeks of moving here. I well remember then Consular Agent Jenny McGill advising us that we had to be serious about learning the language if we attended the school where Melchor was teaching. Attending that school and getting to know not only Spanish, but Melchor as a person, was perhaps the best decision we made in our new life in Puerto Vallarta.


Years went by, we attended the wedding of Melchor and his bride Martha at the well known Cathedral of Our Lady of Guadalupe in El Centro. A couple of years later Husband, Melchor and I excitedly brought Martha and new born Yesenia to the home in Pitillal that Melchor and his brothers had built by hand. Two more years and we, just as excited, fetched Martha and new born Alejandro from the hospital.


We celebrated birthdays, communions and dias de festivos with Melchor, Martha, their parents and large family of brothers and sisters, and of course Yesi and Alex. We watched the young carefree Melchor mature into family man who, after the school he worked for abruptly closed, just took it in stride and started going to his students' homes to continue the Spanish lessons. His dream was to have his own Spanish Language School.


Hearing about the successful school and method that Warren Hardy had designed in San Miguel de Allende, Melchor began to dream of going there to take the course and learn how to teach it. At great sacrifice to he and his family, he went to San Miguel for several weeks to attend the classes.


Melchor came home refreshed and raring to go. By the good graces of Stuart of the then Restaurant Boca Bento on Basilio Badillo he started teaching the Warren Hardy Method in a backroom. He was such a success that he soon had to find a permanent place for his school. He now has a lovely air conditioned school at Calle Viena conveniently reached by bus or private car.


Almost any gringo you meet in Vallarta who speaks good Spanish is, or has been, a student of Maestro Melchor. This "foreign language" is not easy to learn, so many of us repeat each level of the Warren Hardy method as many times as necessary to master that phase. Melchor even has special prices for us repeaters.


Maestro Melchor's next Level One class will begin on Monday, October 11 and Level Two on Tuesday, October 12. Classes are three hours a day, three days a week for three weeks. He also has afternoon conversation classes for those who have completed Level One and/or Two and will begin Tuesday, November 2 through Friday December 10. These classes are offered two days a week from 4 pm to 6 pm. For much more information on Melchor's Spanish Language School, please visit SpanishSchoolVallarta.com.


Your life in Vallarta, whether as a resident or a visitor, will be so much more fun when you can say "¡Si Hablo Español!"
---

Polly G. Vicars and her husband of almost 60 years, Hubert (a.k.a. "Husband") retired to Puerto Vallarta in 1988 and soon became active members of several charitable organizations. Polly is the author of "Tales of Retirement in Paradise: Life in Puerto Vallarta, Mexico" [a sell-out!] and "More Tales of Retirement in Puerto Vallarta and Around the World." Proceeds from the sale of her books go to the America-Mexico Foundation, a scholarship foundation that is their passion.

Click HERE for more articles by Polly Vicars, or click HERE to learn more about Becas Vallarta and the America-Mexico Foundation.
Tell a Friend
•
Site Map
•
Print this Page
•
Email Us
•
Top