Health & Beauty
Medical Tourism in Mexico - Part 3: The Medicare Debate

Laura Gelezunas - videodivaproductions.com
October 22, 2010
Medicare in Mexico founder Paul Crist has been working for over two years to get legislation passed so Americans can use their Medicare benefits in Mexico. (Video Diva Productions)
There are around one million baby boomers living full or part time in Mexico, many of whom would like to use Medicare coverage in their new home country. Medicare is not accepted outside of the United States. Paul Crist, founder of Americans for Medicare in Mexico (AMMAC), has been working for over two years to get legislation passed so Americans can use their Medicare benefits in Mexico.


Paul notes that last year Congress was concerned about health care reform and this year the immigration issue is taking center stage and it has been tough to gain attention for his proposed bill.


Some people object because they feel that taxpayer money should not be spend outside of the United States. "I have an interesting response to that," says Paul. He goes on to say, "People who are eligible beneficiaries for Medicare have paid into that system for, in many cases, 30 years, so is it the taxpayers money or is it their money? That is where I come from and I see it as the beneficiaries money because they paid in and they were promised coverage."


This debate is far from over and a lot of red tape remains before Medicare in Mexico becomes a reality.

To learn more about Paul Crist and the AMMAC's efforts to bring Medicare services to eligible retirees living in Mexico, visit MedicareInMexico.org.
---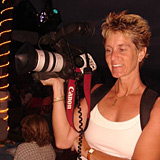 After having spent 10 years in the world of US broadcast news, Laura Gelezunas decided to unleash her skills on Puerto Vallarta by opening Video Diva Productions, a full-service, professional digital video company. Whether you're interested in a sales video, WEBmercial, music video, feature story, documentary, or corporate event video coverage, Laura has the experience, equipment and talent to coordinate a professional production. For more information, click HERE or visit her website at VideoDivaProductions.com.
Tell a Friend
•
Site Map
•
Print this Page
•
Email Us
•
Top