Health & Beauty
Medical Tourism in Mexico - Part 4: Mexico Medical Care

Laura Gelezunas - videodivaproductions.com
November 02, 2010
Laura Gelezunas talks to Dr. Juan Baraza at the Global Medical Tourism Conference & Expo in Puerto Vallarta, August 24-26, 2010. (Video Diva Productions)
Even though medical tourism is on the rise, many people still fear becoming ill in a foreign country. But as health travel continues to grow in Mexico, doctors, their staff and facilities make any potential crises much easier.


Dr. Juan Baraza, from Smart Hospital in Mazatlán, who is also the facility's Medical Tourism Coordinator, takes a personal approach with his visitors. They may be there by choice or it's an emergency.


"What I do is put myself in the body of the patient," says Dr. Baraza, "First of all I have the nurse introduce me to the patient. I say I'm sorry, what happened to you? I then tell the patient that I am going to take you with me to the best hospital in town, don't worry it is going to be alright. I'm going to be with you every step of the way and I am going to take care of your family, too."


Dr. Baraza does his best to calm the patient and family. "In other words, by assuring them, by introducing myself and being able to communicate with them, I am sure that I already erased 40 to 50 percent of the stress for everyone," says Dr. Baraza.


His main hospital duty is working in the emergency room as part of the trauma team and also facilitates the communication and care of foreign patients. "I have learned my strengths and my weaknesses and so in time I have been getting better and better at it," says Dr. Baraza.


A good number of Mexican doctors speak English and sometimes even a third language. As medical tourism increases, expect this number to go up.

---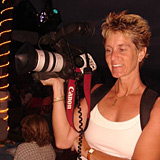 After having spent 10 years in the world of US broadcast news, Laura Gelezunas decided to unleash her skills on Puerto Vallarta by opening Video Diva Productions, a full-service, professional digital video company. Whether you're interested in a sales video, WEBmercial, music video, feature story, documentary, or corporate event video coverage, Laura has the experience, equipment and talent to coordinate a professional production. For more information, click HERE or visit her website at VideoDivaProductions.com.
Tell a Friend
•
Site Map
•
Print this Page
•
Email Us
•
Top