News from Around Banderas Bay
Tournament Season Level Fishing Happening Now in Puerto Vallarta!

Stan Gabruk - PVNN
October 29, 2010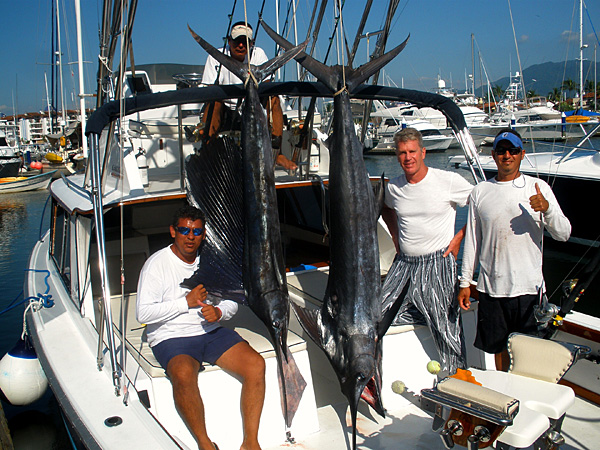 Marlin and Sailfish caught by Rob McGregor on a 10 hour charter aboard the Magnifico, October 20, 2010.
Once you enter the middle of October anywhere within 400 miles of Puerto Vallarta, north or south, you'll find the best fishing conditions for the entire year. Cabo had two tournaments the last week including the Bisbee's Black and Blue.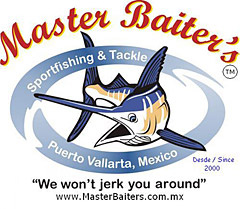 A week earlier, there was the Los Cabos Tournament sponsored by Marlin Magazine. Soon we'll have the Pez Vela Tournament coming up here in mid-November (visit FishVallarta.com for details), which is always a big local hit and this year marks the 55th year this tournament has been running.


The point being these locations schedule tournaments when fishing is at its best! With Yellowfin Tuna, Sailfish, Marlin and Dorado all firing right now, you can only imagine how good conditions are right now for the angler looking for a trophy. But the fishing grounds are still deserted, a lingering effect of the bad economy up north, but for those heading out, the best fishing grounds in the world can be yours almost alone!


With that as a lead at El Banco, or The Bank, we are still seeing Yellowfin Tuna in the 60 to 200 lb range, but mostly in the 70 to 100 lb range with the occasional taking live bait. Now that we´ve moved out of the Full Moon cycle, the Yellowfin Bite is coming on stronger and should continue to increase - for the next few days anyway. The Bite now for tuna is early morning and later in the afternoon, Vallarta Fishing blog readers are always up to date on the bite times.


Black, Blue Marlin are in the area, but those looking for Marlin are better off keeping in closer to shore for the simple reason the bait is there! Anywhere from 8 to 15 miles off the point of Punta Mita you will find Marlin in the 250 to 500 lb range. With the Bullet Skip Jack Tuna running all over the place this is one of the hot spots to be Amigos! This same area has been producing Dorado as well in the 20 to 45 lb range, mostly in the 30's... Still, if you are looking for Yellowfin, hit the high spots!


Corbeteña this week has been working mainly Sailfish. Yellowfin Tuna have been boated, but they're running smaller here than at El Banco. Still on the slow side, Yellowfin Tuna Hunters would be better off hitting El Banco. There are still Marlin in the area, but in diminished numbers.


Magnifico came in with a Blue Marlin on the 400 lb side, but they were being Magnifico! Water has been blue, the murky conditions of last week have improved, but the seasons are changing so don´t be surprised if this changes without warning. Remember bait outside the bay is still an issue, so make sure you make bait when you can. Even a dazed bait that has been in a tuna tube for too long is better than no bait at all. Cubera Snappers are taking trolled baits here as well and many ignore the Cuberas. Running in the 65 lb range, these taste great and fight well!


El Morro and the Marietta Islands are in automatic these days. Snappers to 35 lbs, some smaller Rooster fish in the 30 to 40 lb range are at the reefs between El Morro and the Marietta Islands. But these reefs are protected - so be careful. Needle fish, Pompano, Jack Crevalls and more are hanging out off the reefs. For a shorter day, the fishing has been fantastic. With some luck you´ll run into Sailfish and mid sized Dorado to 30 lbs as well. Well worth your time and fuel money.


From the Punta de Mita area down to the Sayulita area the Dorado are still the resident species. Find a buoy or log and you can hit the jack pot Amigos! Dorado to 45 lbs have been boated this week, Sailfish are also hanging out - so be prepared. Again, Marlin are about ten miles off the point, mix in a dash of luck and anything is possible there right now!


The bay is rocking right now. With the seasonal rains ending early this year, the water in the bay for the most part is clean! Up near the La Cruz Marina there have been Sailfish in the 90 lb range taking baits a short distance off the beach. Near Los Arcos, Red Snappers are in the 30 lb range.


Skip Jack Tuna are also there in the 25 to 40 lb range and they´re big fighters! Most people are surprised how strong even a smaller fish like this can fight. Again, live bait is king, but casting a silver diamond jig close to rocks off the shoreline will put your arms to the test!


Something to keep an eye on if heading out, the water temperatures are in the 85 degree range and this may get the Yellowfin to head down, so have planers and down riggers along with your kites at the ready. Could make you day, Amigo. Look for the temperature breaks on your fish finders and sounders!


Marina Tip: We have this new restaurant in the Village called Rio's D Sudamerica that serves Peruvian food that will knock your socks off! Mostly ceviche, the dishes are light, tasty and healthy. The owners have turned into friends of mine since I eat there almost every night! You may find me there! Yee Ha!


One final word, Whales have been spotted in the bay, so keep an eye out and remember to be careful around these magnificent animals...


Remember, if you have any questions or suggestions you can reach me at CatchFish(at)MasterBaiters.com.mx, or visit my website: MasterBaiters.com.mx.


Until next week, don't forget to kiss your fish!

Stan Gabruk is the owner of Master Baiters Sportfishing and Tackle in Marina Vallarta. He came to Puerto Vallarta for a brief, three-week vacation and never left. You can find Stan at his Master Baiters Sportfishing shop in Marina Vallarta, located on the boardwalk down from the lighthouse next to Tikul Restaurant. For more information about fishing in Puerto Vallarta, visit MasterBaiters.com.mx or email Stan at Catchfish(at)MasterBaiters.com.mx.

Click Here to learn more about fishing in Puerto Vallarta with Master Baiter's.
Tell a Friend
•
Site Map
•
Print this Page
•
Email Us
•
Top