News from Around Banderas Bay
Vallarta Comes to Life: Puerto Vallarta CVB Launches New Website

PVNN
October 13, 2010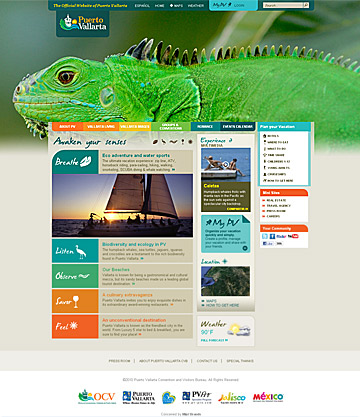 For more information, call OCV Commercial Director Antonia Lavender at 322-145-1702, send an email to antonialavender(at)hotmail.com or go to VisitPuertoVallarta.com.
One month after the presentation of their new design to the media, the Puerto Vallarta Convention and Visitors Bureau is finally going public with their website which, up until now, has been kept under wraps. The new official website of Puerto Vallarta is now online for all the world to see.


The newly designed website, developed by Mijo! Brands is hosted at the same official address VisitPuertoVallarta.com - but has an entirely new image.


Antonia Lavender, the Director of Commercialization for the OCV (Convention and Visitors Bureau - or CVB) is inviting all Vallartans to visit the new site and get familiarized with its content, rich with information and images that paint Vallarta in a new palette of colors. When you see the site you will find it full of photographs, descriptive articles and videos of our destination, providing a sense of pride in the qualities of our town.


"Our mission is to position Puerto Vallarta as a Mexico beach destination with rich culture, world renowned gastronomy and unique tours. We have a lot of confidence that this new international campaign will help us to achieve the ambitious objectives of the OCV."


The website designers tell us they are developing the general directory of business in a series of phases. The first phase lists all the hotels, restaurants, airlines, tour operators and rental car directories participating in the booking engines.


The second phase includes 18 additional sectors of the tourism industry. All businesses related to tourism will have an opportunity to appear in the general directory as long as they comply with the obligations set out in the Terms and Conditions of the OCV. The free directories will help provide valuable information to locals and tourists as well as help to position our website high in the search engine rankings.


The newly designed website was created to foster a better understanding of Puerto Vallarta and to position the destination as a leader in Mexico's tourism industry by means of concentrated promotional campaigns in targeted market segments.


The project does not end with the renovation of the redesigned Puerto Vallarta website. The OCV is also providing packages for companies in 23 sectors to promote their businesses to tourists and locals. The income generated from this effort, together with the income from the website's reservation booking system, will be directed to national and international campaigns that promote our destination.


The CVB will also be reinvesting back into the second phase of the website, which includes adapting the pages to smart phone solutions like Blackberry and iPhone as well as continually evolving and adapting the site in social media networks.


It is estimated that the new reservation system will provide an additional income of $750,000 USD to Puerto Vallarta by next year's end.


The OCV's second initiative is to increase the number of visitors that can arrive in Puerto Vallarta by opening new airline routes in 2011, each with a potential of bringing an additional 78,000 passengers per year.


The number of visitors to Puerto Vallarta decreased 9% in 2009 and 2010 due to the global economic crisis. The average economic benefit to the Vallarta community per visitor per week is $630 USD. If we achieve three new additional flights next year, the economic flow to our community could reach $143 million dollars.


In addition, the OCV will also be turning their focus on increasing the number of events held in the community. The economic benefit to the community could translate into an additional $1.25 million USD per year with only 5 additional events with an average of 250 persons each.


The General Director of Mijo! Brands, Daniel Gomez, commented "Puerto Vallarta is a unique destination in M้xico. This project will give us a chance to renew our image and compete at an international level with other destinations, not only Cancun and Riviera Nayarit but with Hawaii and Miami as well. The effort that the Riviera Nayarit has made is noteworthy. We should take into account the strategies of other destinations like them and support this new campaign which is giving us an opportunity to position our destination authentically, brandishing new life to the image, and the economy, of Puerto Vallarta."


On the 6th of October, the internationally renowned American rock group, The Black Eyed Peas, played in a concert at the Chivas Stadium in Guadalajara, which was sponsored by Riviera Nayarit. Many Vallartenses were disappointed at losing another chance at having a presence at an international event. Ms. Lavender assures us that the new website offers a fantastic opportunity for Vallarta and says this website will secure us a better position in the world market.


"Our Project is quite ambitious. We need to be ambitious if we want to promote our destiny and capture new segments of the tourist market. The commercial packages that have been created take into account the OCV's goals and the needs of Puerto Vallarta. We have designed five opportunities for individual businesses to showcase their products and services while helping Puerto Vallarta achieve its important goals. The value of support businesses can provide to Puerto Vallarta range from $1500 to $15,000 USD per year."


The General Directory, free of charge, assures an equal opportunity for established businesses to promote themselves and participate in the website. The commercialization strategy is of utmost importance to achieve the initiatives set up by the OCV for 2011.


Lavender can confirm they have several packages committed to date. Two of the Board Members of the OCV, Dennis Whitelaw and Luis Angarita have shown their support by purchasing platinum packages ($15,000) for their respective companies (Casa Magna Marriott and Velas Vallarta).


Other important contributors include companies from different business sectors, including Royal Holiday, CMQ Premiere Hospital, Toyota, Prudential Realty, Opequimar, Portobello, Tukari and the Marina and Vista Vallarta Golf courses, among others.


Lavender worked with the OCV to develop their strategy of commercialization. She feels confident in the mission and vision of the organization and in their ability to achieve results from their objectives.


"Vallarta is a place with tremendous potential, with a rich history and culture. Puerto Vallarta is unique in Mexico, we have beautiful beaches and lush vegetation, picturesque mountains and a wide selection of hotels, restaurants and tours. But above all, we have our people who on a daily basis participate in promoting our destination side by side with tourists," she said.


She elaborated, saying, "Vallarta is rich with the wealth of experiences tourists have difficulty experiencing anywhere else in the world. This is not something you can transmit through an ad. Thanks to the vision of the OCV, we are taking the initiative to promote our destination with a new energy. Taking images which are worth a thousand words, and videos which offer testimony to the experiences lived by other tourists who have been to Vallarta. We plan to take social media to limits we never thought we could before."


The electronic brochures with information about free listings in the general directory and commercial packages are now available to download from the OVC's official website.


For more information, call OCV Commercial Director Antonia Lavender at 322-145-1702, send an email to antonialavender(at)hotmail.com or go to VisitPuertoVallarta.com.

Tell a Friend
•
Site Map
•
Print this Page
•
Email Us
•
Top