Vallarta Living
Local Communities Witness the Power of Kids

Becci Burchett - PeaceMexico.org
October 23, 2010
Thirteen-year-old American Keaton Kett and a group of American school in Puerto Vallarta students worked independently to raise money and supplies for the Punta de Mita community.
Punta de Mita, Nayarit - It is the size of the heart, not the size of the person that matters. That's what local non-profit PEACE experienced after witnessing the influence of one young, American humanitarian, and a group of students living in Puerto Vallarta, who independently worked to raise money and supplies for the Punta de Mita community.


Instead of presents for his 13th birthday, Keaton asked for donations. Over the course of three months, he raised over $500 USD in his own "Pennies for PEACE" campaign, initiated in the Chicago suburbs and infiltrated nation-wide.


Keaton's proceeds were presented in a symbolic check on October 15th to excited young boys in Punta de Mita where it will be used to purchase equipment for their first baseball team. The coach, (father of a team member and local fisherman,) and the town mayor were also present as Keaton made a brief speech describing his fund raising efforts, his excitement to meet them, and his encouraging advice to "try hard and never give up."


"Many of us had little tears in our eyes," said Kendra Kett, Keaton's proud mother and PEACE volunteer. "I really underestimated the power of $537.19 and learned in a very powerful way how every good act truly matters, no matter how small you think it might be. You never ever really know what kind of seed you are planting when you do a good deed, so it is important to have faith and just do it anyway." she added.


The results of good deeds were experienced again on October 18th when students from the American School in Puerto Vallarta delivered donated boxes of food and supplies. The donation is being used for PEACE's newest initiative "Trabajo por Despensa," which supports town beautification and improvement projects that are developed and carried out by local residents in exchange for food and cleaning supplies. All beautification and improvement projects are identified and carried out by community members, making them the stake holders of the project. The students worked for several weeks to promote and collect materials in order to expand and develop their efforts.


"It was a memorable week for PEACE," said Molly Fisher, Founder and Director of PEACE. "Not only was it refreshing and touching to witness such generosity and effort at such young ages, but it served as a reminder to never underestimate the power of kids."


This impact is bound to continue, as young attitudes and values develop. When asked why he initiated his PEACE fund raising campaign, Keaton responded, "Because when you get the opportunity to help someone, you should go for it."
---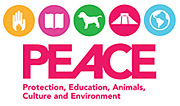 PEACE: Protection, Education, Animals, Culture and Environment, is a nonprofit organization established in 2005, made of four main programs which focus on education, entrepreneurship, animal well-being, and community engagement in the coastal regions of Nayarit, Jalisco and Quintana Roo, Mexico. Through innovative and community based programs, PEACE is working to improve the quality of life in local communities throughout the Bahía de Banderas. For more information, please visit PeaceMexico.org or click HERE to read more about PEACE
Tell a Friend
•
Site Map
•
Print this Page
•
Email Us
•
Top