News from Around Banderas Bay
Outback Steak House Continues its Altruistic Ways

Polly G. Vicars - PVNN
November 01, 2010
Ver la información en español AQUÍ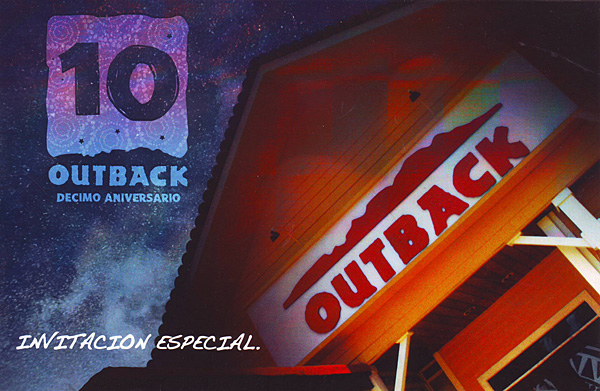 Outback invitation to the Celebration
Get ready for the November 11 Outback Steak House 10th Anniversary celebration! Continuing their commitment to the children and youth of Puerto Vallarta, Outback is donating all proceeds from the event to three important and deserving charities: Casa Hogar, Pasitos de Luz and Becas Vallarta.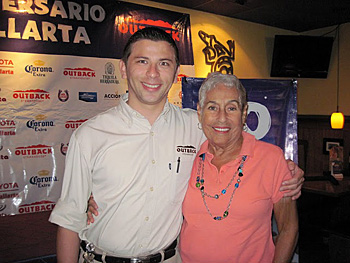 Former Becado Edgar López of Outback and me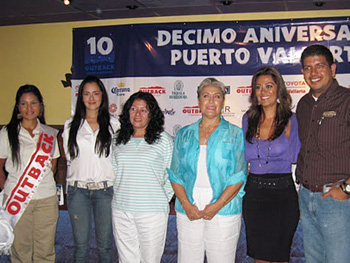 Tamara Montaño of Outback, Alejandra Cornejo of Casa Hogar, Yolanda Sanchez of Pasitos de Luz, Mariel Fregoso of Becas Vallarta, Sujey Cross and Cutberto Godinez of Outback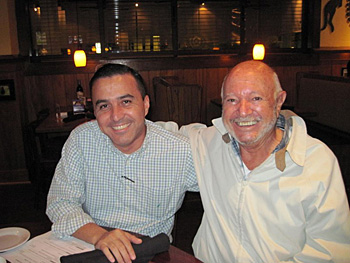 Director of Operations Alberto Navarrete with President Carlos Fregoso
Those of you who watch US TV are probably familiar with Chris Mathews' daily program "Hard Ball." Each day he has what he calls "The Big Number." Well, I have a big number for you today that is mind blowing: $11,800,000.00 pesos, which at today's rates is $955,775.10 US dollars! That is almost one million US dollars the Outback Steakhouse, that is celebrating its 10th Anniversary on November 11, 2010, has donated to various essential foundations in Puerto Vallarta.


Alberto Navarrete, Director of Operations from Guadalajara, met with representatives from the three charities that will reap the rewards of the coming event: Mariel and Carlos Fregoso, Linda Wirth and I from Becas Vallarta, Alexandra Cornejo from Casa Hogar, and Yolanda Sanchez from Pasitos de Luz. He emphasized how happy Outback is to be able to help these three foundations with the incredible work they do for the people of Puerto Vallarta.


He told us that for several months Outback has been raising funds in the restaurant giving their patrons an opportunity to be a part of their altruism. Every table has been graced with a folder in both Spanish and English with the following: "It's time to help, and like every year, Outback makes you a part of this great labor. To celebrate our Tenth Anniversary, we invite you to include in your check a Voluntary Contribution, starting from $5.00 pesos. The amount collected will be announced in the charity event to be held on November 11th."


Also giving the local businesses a chance to participate, representatives from all three charities have been soliciting prizes for the raffle, silent and live auctions. You won't believe the great items we have secured.


There will be a Toyota Tacoma Pick Up Truck from Carlos Padilla Longoria of Toyota Puerto Vallarta; two nights in the luxurious Grand Bay Hotel, Isla Navidad - a Wyndham Luxury Resort in Manzanillo; two nights in a luxury 3 bedroom condominium at Paramount, Puerto Vallarta; 3 nights in the popular and beautiful Casa Isabel, Puerto Vallarta; 2 nights in Crown Paradise in Cancun; a Sony Sound System from Lans Department Store; green fees from the fabulous El Tigre and Vista Vallarta golf courses; memberships in Gold's Gym; facials; exquisite jewelry; massages; swims with the dolphins; flower arrangements; dinners in great restaurants, and many, many more.


The event is being staged outside the Steak House Restaurant and festivities will begin at 8:30 pm with a few presentations followed by dinner and dancing, the raffle and live auction. But to insure that you have a table you should try to get there early. Coming by public transportation is probably a good idea, as parking will be limited and there will be plenty of taxis available when needed.


Tickets are only $400 pesos and that includes a generous sampling of all Outback specialties, a raffle ticket and one drink. More tickets, both drink and raffle, will be available from young people from the charities. Drink tickets are $30 pesos if bought in advance and $40 pesos if bought at the event.


A large floor is being put down for you to dance to the music of Odisea from Ciudad Guzman. Odisea always puts on a fabulous show in addition to playing their huge and varied repertoire of music. During the evening there will be a live auction which should bring about spirited bidding considering the caliber of prizes. You will also have a chance to bid in the silent auction for your favorite items and you can win fabulous raffle prizes.


At our first meeting I was surprised when the young manager, Edgar, told me he had been a scholarship student with Becas Vallarta several years ago. How gratifying to see the fruits of our labor in the flesh and to see how well he is doing.


Getting to know Sujey Cross, the lovely and talented public relations director, Cuberto Godinez, Property Manager and Edgar López, has made the planning of this event a pleasure. They and the courteous and efficient staff of Outback Steak House have been helpful in every way. I feel sure they will see that this 10th Anniversary Celebration will be the best ever for you, the attendees, and for us the recipients of the donations.


Tickets are going fast, so give me a call at (322) 223-1371 or 044-322-182-0215 or email me at phvicars(at)gmail.com. You won't want to miss this celebration and the chance to help Becas Vallarta, Casa Hogar and Pasitos de Luz. See you there?
---

Polly G. Vicars and her husband of almost 60 years, Hubert (a.k.a. "Husband") retired to Puerto Vallarta in 1988 and soon became active members of several charitable organizations. Polly is the author of "Tales of Retirement in Paradise: Life in Puerto Vallarta, Mexico" [a sell-out!] and "More Tales of Retirement in Puerto Vallarta and Around the World." Proceeds from the sale of her books go to the America-Mexico Foundation, a scholarship foundation that is their passion.

Click HERE for more articles by Polly Vicars, or click HERE to learn more about Becas Vallarta and the America-Mexico Foundation.

Tell a Friend
•
Site Map
•
Print this Page
•
Email Us
•
Top