Entertainment | Restaurants & Dining
The Sarcastic Gourmet: Esquina de Los Caprichos

PVNN
November 11, 2010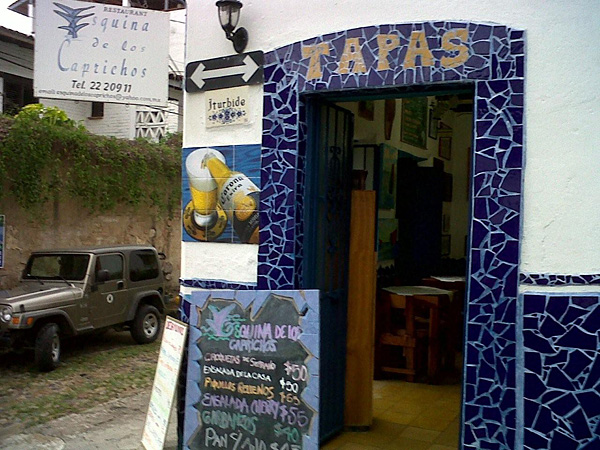 Esquina de los Caprichos is located on the corner of Miramar and Iturbide, high above the Malecón in downtown Puerto Vallarta.
This little Tapas Bar/Restaurant is situated on one of the most charming cobblestone streets in downtown Puerto Vallarta. No one seems to know the origin of the term Tapas, which means "cover" in Spanish. One theory is that the snacks were served to top wine glasses and keep out the flies.


Esquina de los Caprichos has been an old family favorite for years, and we can remember when the dining area could only accommodate 6 or 8 clients and they did not have a real menu, just tapas. The original eatery is pretty much the same and is cozy and inviting.


This time we decided to try the new courtyard area in the rear of the kitchen. Despite some very interesting mosaic tile decoration and a few more tables, I really prefer the original space overlooking the street.


My problem with the patio was the location of and lack of sound proofing for the bathroom. It felt as if a table had been replaced by a toilet and every bathroom sound and flush resonated rose over the walled area. I suppose it should be considered part of the charm of old Vallarta construction.


The menu is extensive, and at first I thought about how such a tiny kitchen could house so many different ingredients, but the food, in fact, is excellent. Do they have cellars here? We enjoyed the tomato and goat cheese salad and the garlic soup was super potent. The Papas Bravas, greasy little cubes of friend potatoes created a 'Feeding Frenzy' in our group. I realized that they were just potatoes, but the aioli sauce was amazing.


I give Esquina de los Caprichos a 3 forks rating. The lower rating only because of the reaction I received when I exited the bathroom. I dare you to try to find this hidden location on the corner of Miramar and Iturbide high above the Malecón in downtown Puerto Vallarta.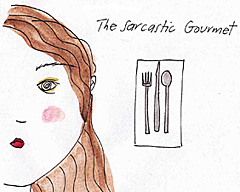 Join our anonymous foodie in her good and bad restaurant moments in the Banderas Bay area. Follow her adventures, and often misadventures, in and around Puerto Vallarta as she cruises the restaurant scene and attempts to critique some of the local chefs. If you would like to critique The Sarcastic Gourmet's review or suggest an establishment to be reported on, please send an email to popochasenpv(at)hotmail.com.

Click HERE for more Puerto Vallarta Restaurant Reviews by The Sarcastic Gourmet
Tell a Friend
•
Site Map
•
Print this Page
•
Email Us
•
Top