Vallarta Living
PEACE Non-Profit Launches Second Season of Home Tour

Becci Burchett - PeaceMexico.org
November 12, 2010

Bucerías, Nayarit – Local non-profit PEACE has found a way to offer a unique experience for tourists while providing vital funding for their programming in a new social business, Real World Home Tours. The experience captures the essence of the diverse lifestyles around the bay while allowing appreciative visitors to give back to local communities.


"A lot of people who visit the Puerto Vallarta area would love to interact with locals on a personal level, but don't know how to do it," said Molly Fisher, Director of PEACE Mexico. "Our programs allow them to step out of their comfort zone and really learn what life here is like, while supporting local communities."


The Real World Home Tour visits four exclusive homes, from spectacular luxury estates to modest pueblos, where visitors experience both the differences and similarities in the lifestyles of the locals and the expats who make up the bay's rich community.

PEACE Real World Home Tours

• Departures every Friday (November 5 – April 1)


• Ticket can be purchased on tour days from 9:15-10:15 am, in downtown Bucerías, near the gazebo on Lazaro Cardenas, in front of the Michoacan ice cream shop, or online at ThePeaceBoutique.com.


• Tour bus departure at 10:30 am – Return 2:30 pm


• Tickets cost $450 pesos ($35 USD) per person


• Includes transportation, light lunch and souvenir water bottle


100% of ticket proceeds support PEACE, an organization that focuses on education, entrepreneurship, animal well-being, and community engagement in the coastal regions of Nayarit, Jalisco and Quintana Roo, Mexico.


"I found Real World Home Tours to provide an authentic snapshot of this Mexican region that is not readily accessible by any other means," said Andie, a home tour participant. "It's hard to find a vacation experience like this. Real World Home Tours helped us to respectfully 'unravel' the cultural differences in this beautiful country, and encouraged a relationship among tourists and the local people of this region. After all, the more we learn about the differences in people around the world, the more we discover how much we really are the same."


For reservations or more information, contact: tours(at)peacemexico.org or purchase your ticket online at ThePeaceBoutique.com.
---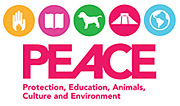 PEACE: Protection, Education, Animals, Culture and Environment, is a nonprofit organization established in 2005, made of four main programs which focus on education, entrepreneurship, animal well-being, and community engagement in the coastal regions of Nayarit, Jalisco and Quintana Roo, Mexico. Through innovative and community based programs, PEACE is working to improve the quality of life in local communities throughout the Bahía de Banderas. For more information, please visit PeaceMexico.org or click HERE to read more about PEACE
Tell a Friend
•
Site Map
•
Print this Page
•
Email Us
•
Top