Puerto Vallarta Real Estate
PVRPV's New Cool Blue Campaign Kicks Off With a Splash!

pvrpv.com
December 07, 2010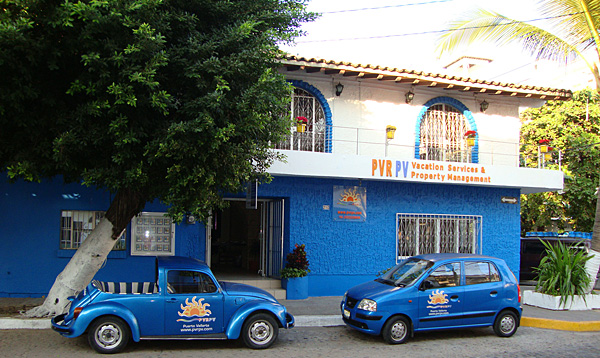 On December 6th, PVRPV launched their new 'Cool Blue' campaign by giving their office a new look and launching a new state-of-the-art website for Puerto Vallarta area vacation accommodations.
Puerto Vallarta, Mexico - The neighbors are giggling and the employees are scratching their heads! The PVRPV office got an overnight overhaul on December 5th and everything has gone Cool Blue, including the outside walls!


Employees arrived Monday morning to find their corner office on Pino Suarez and Madero awash in a new coat of cool blue paint, top to bottom. When they turned on their computers to start work, they found the website had an enhancement as well.


They were given new "cool blue" logins and passwords to the newest and most elaborate website for vacation accommodations in the Puerto Vallarta area. After years of hard work, the New Cool Blue PVRPV website is online!


This launch has been the dream of PVRPV's owner, Tim Longpré, for a long time now. With the launch of this new super-dynamic website, customers looking for a vacation rental will be able to use advanced tools to narrow their searches to their exact need.


New functionality will allow users to do a number of things that were previously impossible. A few examples are: the ability to search in more than one area of town at a time, flexible date searches, specific amenities searches (i.e. WI-FI or ocean views) and much more.


Customers will also be able to save their searches by creating a unique profile that will remember what they like and help PVRPV match them with money-saving promotions and new products in addition to rewards for frequent stays. Even more features will be rolled out in the coming months.


"Our team at PVRPV has taken into consideration the advice and desires of thousands of our customers and homeowners. Their ideas and feedback helped us create the new website," says President and founder of PVRPV, Tim Longpré.


Testing has been performed and this launch represents phase 1 only. "The new website allows us to constantly improve and add features as we go. We love it and we hope our customers will too," Tim adds. "I'm very proud of what we've accomplished."


PVRPV has been the leader in vacation rentals in the Puerto Vallarta area since the launch of their first website in 2005. They were the first to offer "real-time" availability searches and online booking. They revolutionized the way most people shop for a vacation rental in the Vallarta area. Now, they're doing it again.


To make it even more fun, PVRPV is giving away a complimentary 7 night stay at the new, beautiful Molino de Agua building for the winner of its new T-shirt photo contest. PVRPV invites all past customers to pull out the complimentary T-shirts they received at check-in and take a picture of themselves wearing it.


Perhaps you wore your PVRPV T-shirt on a trip to another part of the world or to a sporting event or to mow the lawn. Send us your photos! Complete contest information is available on their brand new website pvrpv.com.


If you are planning a dream vacation in beautiful Puerto Vallarta, Mexico, look no further than PVRPV. Representing the highest quality vacation accommodations in the Banderas Bay area, PVRPV is your experienced and reliable choice for Puerto Vallarta home, villa and condo rentals and rental property management. In addition to providing visitors with affordable vacation rentals, PVRPV has a longstanding commitment to giving back to this wonderful community we call home. To learn more, check out the PVRPV Blog. For more information about PVRPV's vacation rental services click HERE, or visit PVRPV.com.
Tell a Friend
•
Site Map
•
Print this Page
•
Email Us
•
Top