Manos de Amor, Angels Undercover

Roberto Castellanos - marinersmexico.com
December 07, 2010
On Sunday, December 12th, Los Arroyos Verdes Resort & Spa in Bucerias, Nayarit is hosting a Christmas party for the orphaned children of Manos de Amor.
Craig and I attended last year a Christmas party at my friends' hotel, Los Arroyos Verdes, in Bucerias, Nayarit. The party was being held for these kids.


It really caught me. The only tears by the piñata were mine. These children are angels undercover as poor, orphaned children. Later, I asked Lupe, the hotel owner, how can I help. She said that the manager of the children's house "Manos de Amor" was going to contact me.


Veronica is the manager of Manos de Amor. She is that rare type of person without whom this planet will not balance as it spins on its axis. She is devoted to these children 24/7/365. She sent me an email and asked me if I would help by buying shoes for the children. I loved the idea.


The next week my wife, my son, and I went to the shoe store, then went to visit the children. Can you imagine the faces, the laughter, the joy of these children running with their new shoes? Heartwarming does not being to describe it. "They are magic... look how I can run now!" said one little boy. That day was October 4th, my birthday. Giving to the children was one of the nicest birthday presents I have ever received.


We have visited them since, bringing more "magic shoes." The Christmas Party is next Sunday, December 12th, at Los Arroyos Verdes. Another Day with the Angels is coming. If you want to experience the Joy of Christmas in Mexico, Banderas Bay–style, you will find it next Sunday at the hotel Los Arroyos Verdes in Bucerias, Nayarit.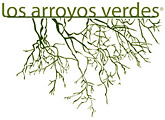 Tucked away in the lush green farm and ranchland just east of Bucerías Nayarit, Los Arroyos Verdes is a place to relax, refresh, renew and re-connect with your dreams in 29 modern, beautifully appointed 1-2 bedroom casitas surrounded by nature and ecological awareness.

Click HERE to learn more about Los Arroyos Verdes.