Vallarta Living
PEACE Launches New Programs in Puerto Vallarta

Becci Burchett - PeaceMexico.org
December 13, 2010
Established in 2005, P.E.A.C.E. consists of four main programs that focus on education, entrepreneurship, ecology, animal well-being, and community engagement. For more information, please visit PeaceMexico.org.
Punta de Mita, Nayarit - Women and youth in neighborhoods throughout Puerto Vallarta will soon be exposed to educational and financial opportunities, as PEACE, a non-profit organization with tax- free status in the U.S., Canada and Mexico, expands south with its community outreach programs.


For the past three years, PEACE has had a significant presence in Puerto Vallarta through its free, mobile spay and neuter animal clinics, followed by weekly beach and river clean- ups, which have taken place over the past year and a half.


"Many people in PV think dogs and cats when they think of PEACE," comments Molly Fisher, Director and Founder of PEACE. "Other misconceptions are that our programs are restricted to Nayarit. Our animal clinics are actually just one of four main programs we administer."


Thanks to the recent launch of PEACE Classic Vallarta Home Tours, PEACE will soon have the funds to implement other programs in needy neighborhoods, known as colonias, in Vallarta. Eighty percent of funds generated from these tours will go directly towards after-school programs and a women's artisan co-op. The other twenty percent will be allocated for administrative costs.


Comments Fisher, "From the start, PEACE programs were designed to be replicable. The home tours will allow our successful programs in Nayarit to take place in Puerto Vallarta, where they are also greatly needed."


PEACE: Protection, Education, Animals, Culture, Environment, established in 2005, consists of four main programs that focus on education, entrepreneurship, ecology, animal well-being, and community engagement.


Orgullo en la Comunidad (Community Pride) - Fosters ownership and pride through programs that demonstrate the importance of protecting the environment through recycling, composting, organic farming and green business education. PEACE also conducts community beautification projects including recycled parks built in schools and beach, town and river cleanups.


Manos Unidas por la Mujer (United Hands for Women) – More than 40 local women boost their self esteem and increase their economic independence through their involvement in this artesian cooperative. The women learn design and craft skills and are able to sell their art through The Peace Boutique.


Ayuda a los Animales (Help the Animals) - Responds to the challenges of the unwanted pet population in México through aggressive and free mobile spay/neuter programs, as well as providing education regarding the humane treatment of animals.


Casa Comunidad (Community House) - Provides teacher seminars, special education, psychological services and English and computer classes. An alternative education program is in place allowing local children and adults to complete their primary and secondary education.


PEACE projects in Puerto Vallarta will not necessarily mirror those of Nayarit. Local neighborhood leaders will participate in community focus group meetings and tailor PEACE programs to the specific needs of those colonias.


Says Fisher, "I expect that our Casa Comunidad and Manos Unidas por la Mujer programs will be very similar to those we've already developed in Nayarit. But I think it's critical to work from the bottom up, not the top down, when implementing strategies for development. Community members know what is needed more than I do!"


As in Nayarit, PEACE not only plans to collaborate with individuals in various neighborhoods, but with existing community organizations in order to avoid an overlap in services.


"Working with community members to fully launch PEACE in PV is so exciting," Fisher said. "These new programs may only be one hour away from our headquarters, but the ripple effect of an educated and empowered mind goes so much further."


The PEACE Classic Vallarta Home Tours depart every Tuesday at 10:00 am through April 5th (no tour December 21,) from Plaza Romy - Ignacio L. Vallarta 228 at Lazaro Cardenas. The 3 ½ hour tour visits beautiful and unusual local homes and gardens and are led by a PEACE volunteer in a comfortable air-conditioned bus. Pre-sale tickets will be $30 USD ($400 pesos) and can be purchased each week prior to the tour at Superior Tours Vallarta, Monday-Saturday. Tickets sold the day of the tour will be $35 USD ($450 pesos.) For further information, contact: pvtours(at)peacemexico.org.
---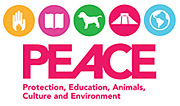 PEACE: Protection, Education, Animals, Culture and Environment, is a nonprofit organization established in 2005, made of four main programs which focus on education, entrepreneurship, animal well-being, and community engagement in the coastal regions of Nayarit, Jalisco and Quintana Roo, Mexico. Through innovative and community based programs, PEACE is working to improve the quality of life in local communities throughout the Bahía de Banderas. For more information, please visit PeaceMexico.org or click HERE to read more about PEACE
Tell a Friend
•
Site Map
•
Print this Page
•
Email Us
•
Top