Puerto Vallarta - Rivera Cuale, the award-winning condominium development, is partnering again with PEACE in the creation of a riverside commnity garden on its grounds. The purpose of the garden is to serve as a hands-on educational space for students where they can learn about indigenous plants and flowers, composting, nutrition and sustainable food production. The goal is to inspire environmental awareness and community involvement in the youth of Puerto Vallarta.
The Rivera Cuale-PEACE community garden will be the first garden of its kind in Vallarta. The garden space has already been designed and will be in a separate area of the property, just outside the condominium area and entrance plaza. All that is needed to begin the project are shovels and volunteers. If interested in helping with the groundbreaking work for this worthwhile program, please contact: nicole(at)peacemexico.org.
Past partnerships of Rivera Cuale and PEACE include an on-site fundraiser screening of the powerful documentary, "Home" (over 13 million people have viewed this on YouTube); a student clean-up day on the nearby Rio Cuale; and the on-site Cheko Carrillo fundraiser concert in November. (Rivera Cuale paid for the rental of the stage, chairs and refreshments and PEACE arranged and paid for the musicians.)
Rivera Cuale is on record for being eco-friendly and community engaged and PEACE is grateful for its support and contributions to Puerto Vallarta.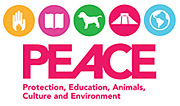 PEACE: Protection, Education, Animals, Culture and Environment, is a nonprofit organization established in 2005, made of four main programs which focus on education, entrepreneurship, animal well-being, and community engagement in the coastal regions of Nayarit, Jalisco and Quintana Roo, Mexico. Through innovative and community based programs, PEACE is working to improve the quality of life in local communities throughout the Bahía de Banderas.
For more information, please visit PeaceMexico.org or click HERE to read more about PEACE
---
Old town charm, new town luxury... plus, the most convenient, accessible in-town location in Puerto Vallarta. That's Rivera Cuale - an award-winning, environmentally-sensitive riverfront community of full-time residential condominiums; secluded and quiet, yet minutes from downtown.
Click HERE to learn more about Rivera Cuale Puerto Vallarta.