In the heart of Puerto Vallarta on the river island, one of the most beautiful settings in Vallarta since 1993, with Río Cuale on both sides, one finds The River Café, a classy upscale, but very comfortable, restaurant.
Situated in a quiet lush tropical setting, the city seems far away; the only noises are the gurgling water heading to the bay, pleasant music and the murmurs of conversations. One does not hear buses, horns, shouts or alarms. Birds chirp and tussle in the huge trees above, while iguanas sit calmly and motionless sunbathing and watching the activity below. Some of the family has lived there many years.
As you enter this fine dining restaurant, there is a spacious bar featuring wonderful drinks and some of the best jazz playing and singing in town. The dining room features paintings by well-known Mexican and local artists. Tables are well-spaced and terraced down to right above the river bank. There is a small group of tables actually sitting out over the rushing water. These special spots need to be reserved.
In this warm and artistic establishment, the owners, Eva Sánchez Dueñas and Margarito Larios have combined gourmet cuisine with their special touch in which the excellence of attentive, but not interfering, service and the flavors of the food match the wonderful surrounding atmosphere.
With two chefs in the kitchen, Chef Benjamin Sanchez Arriaga and Chef Karla Morales' creative ever changing menu entices guests back time and time again, often bringing out-of-town visitors with them. Whether it is a stop for an eye-opening breakfast served until noon, a quiet delicious lunch until 4 pm or a fine dinner until 11:30 pm, the taste buds will be pleased.
For a recent early breakfast, our party sampled a wide array of dishes to start the sunny day. A favorite were the Apple and Cinnamon Hot Cakes with whipped cream. "Luscious" was a word which came to mind. The menu includes various waffles, bagels, croissants, fruit, cereal plus eight traditional Mexican dishes as Chilaquiles,Molletes and Machaca.
Lunches are a perfect time to relax and reflect amongst the beauty and the soft sounds. Crab Meat Enchiladas in a mild Chipotle sauce, Sizzling Spicy Garlic Shrimp sautéed with chile and garlic, Caprese Salad, a delight composed of tomato and Mozzarella cheese with basil and olive oil.
Enchiladas, Fajitas and Burritas as well as the show-stopping chile pepper strips, squash blossom and Huitlacoche Quesadillas with guacamole represent Mexican cuisine. Or, there is the temptation of pizza, pasta, crêpes, burgers and sandwiches. Also successful is the White Fish Fillet, a choice of breaded, garlic or butter, or stuffed with crab meat with red wine, onions and vegetables.
The sun goes down and the stars come out to dine at The River Café. A virtual tapestry of colors and flavors are impressively presented. The starter offerings are all tempting, especially Fried Calamari with aioli, Tuna Carpaccio, Mussels in Chipotle cream sauce and Thai Crab Coconut Cream Soup.
The wide range of the menu items shows in fine Crêpes with Shrimp and Spinach and Seafood Fettuccine Puttanesca. Options to consider include Seared Tuna with papaya, Pecan Coconut Battered Shrimp, Duck with pear and raspberry, Lamb Lasagna with wild mushrooms and goat cheese, Rack of Lamb, Filet Mignon red chile and Rib Eye Bordelaise.
Desserts range from Hot Chocolate Cake with vanilla ice cream to Crème Brulée with a red fruit sauce and the famous table side Banana Flambé show for two.
This dining destination with delightful elegance is a top treat high on many Puerto Vallarta diners' lists. Therefore, reservations are recommended. The River Café was awarded Virtual Vallarta "Best Outdoor Restaurant" for 2010 and a 'Distintivo H' certificate for 2010-2011. An added bonus is that the restaurant offers guests free WiFi access.
Open daily from 8 am to 11:30 pm, The River Café is located at Isla Rio Cuale #4 in downtown Puerto Vallarta. Reservations are recommended and can be made by calling (322) 223-0788 or online at RiverCafe.com.mx.


Click HERE to learn more about The River Café.
---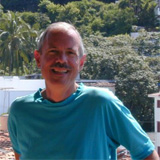 After 20 years in the San Francisco restaurant business, Gary R. Beck turned his attentions to cooking, dining out, creating recipes and exploring Puerto Vallarta's rich array of eateries. Famous for his restaurant guide, available online at CafePress.com or Lulu.com, Gary also writes restaurant reviews for Puerto Vallarta newspapers, Bay Area magazines, and now, a feature column for BanderasNews.com. Contact Gary at garyrbeck1(at)yahoo.com.
Click HERE for more articles by Gary R. Beck.