Puerto Vallarta, Mexico – The people of Banderas Bay came out in droves on February 13th in support of the premier fundraiser for the Paradise Community Center Hot Love - Salsa y Salsa!
Over 300 guests sampled a variety of salsas and voted for their favorites. Over 20 local restaurants and amateurs showed-off their salsas while vying for the title of "Best Salsa Sauce in PV." Winners include...
Mild:
1st place / Business - Casa Isabel
1st place / Individual or Group - Paco Ruiz
Sweet:
1st place / Business - No Way José!
1st place / Individual or Group - The Estrogen Cartel
Green:
1st place / Business - Gilmar
1st place / Individual or Group - Adriana Gordon
Hot:
1st place / Business - Gilmar
Unique:
1st place / Business - Coco's Kitchen
The Celebrity Guest Judges included Gary R. Beck, Heather Wilson and Nicole Martin, who selected the 1st Place in the Business category, while the public voted for the Individual/Group category by placing a Peso coin next to the salsa of their choice.
To help spice up the event, salsa dance lessons were given by Felipe Reyes and Marcella Castellanos and, just in case things got too hot to handle, our own Bomberos were on hand to put out any fires!
Over $35,000 Pesos were raised through admission fees, voting, raffles and a 50/50 promotion with proceeds from this first-time event dedicated to the continuation of the Paradise Community Center's charitable works in reaching out to those in and around Puerto Vallarta.
Located on PV's South side at Calle Pulpito #127 across the street from Coco's Kitchen, the Community Center also houses our Worship in Paradise Church, the Old Town Farmers' Market on Saturdays and is also open to host your event.
A special "Gracias!" goes out to all of the volunteers who came on board to help pull this amazing event together, including Debbi Egan, Drew Baldridge, Johanne Ranger; to all of our participating restaurants and individuals, you are all winners in our eyes; and to the many local restaurants and shops that donated to the raffle. A special call-out to Patty McLane and Crate Interiors for graciously sponsoring this event.
---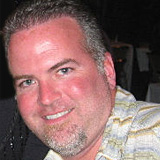 Born in Seattle, WA, Patrick Harrison has been living in PV since 2003. Drawing on his experience in entertainment, radio, retail and sports marketing in major US cities, Patrick opened his own business here in Vallarta, P. Gringo Marketing & PR, a successful Public Relations Firm that targets the English-speaking tourist and local communities. You can contact Patrick at patrick(at)pgringo.com
Click HERE for more articles by Patrick Harrison.