Puerto Vallarta, Mexico - Investigate the innovative menu at Daiquiri Dick's during Restaurant Week 2011. Located on the most popular stretch of beach in Puerto Vallarta, Los Muertos, this long-time icon offers spectacular sunsets, swaying palm trees and the crash of the waves as a dramatic backdrop.
Juan Carlos the waiter says, "Try the winning dish for out recipe contest, Khao Soy, featuring Mahi Mahi, plus we will have a grilled pork chop and Cajun beef tenderloin as entrees."
Starter choices, shrimp ceviche, Tuscan soup or a roasted pepper bruschetta. Finish off your meal with a seasonal fruit cobbler, panna cotta or gelato flavor of the day.
All three courses for $299 pesos. There's also the house wine by the bottle or glass. Dinner is served starting at 5:30 pm. Daiquiri Dick's, an exceptional experience.
Daiquiri Dick's Restaurant Week Menu
$299 pesos with your choice of one dish from each course:
FIRST
• Tangerine Marinated Shrimp Ceviche served with tangy~spicy chips
Ceviche de Camarón a la mandarina
• Tuscan Summer Soup with Goat Cheese and Parmesan Croutons
Sopa de Tomate estilo Toscano con queso de cabra y crotones al parmesano
• Roasted Pepper Bruschetta with Goat Cheese and Chipotle
Bruschetta de Queso de Cabra con morrones asados y chipotle
MAIN
• Mahi Mahi in Northern Thai "Khao Soi" Noodle Soup
Filete de Dorado con salsa de leche de coco estilo tailandés con fideo
• Grilled Cajun Beef Tenderloin with Chipotle Aioli, served with roasted potatoes
Medallones de res estilo Cajún con papas y salsa aioli de chipotle
• Grilled Pork Chop with Sweet Onion Marmalade
Chuleta a la parilla con mermelada de cebolla caramelizada
DESSERT
• Chocolate Panna Cotta with Spiced Pepita Brittle
Panna Cotta de chocolate con caramelo con pepitas y especias
• Seasonal Fruit Cobbler à la Mode
Cobbler de Fruta de temporada a la mode
• Gelato of the Day
Gelato del Día
Restaurant Week 2011 runs from May 15-31 at some of the most recognized restaurants in Puerto Vallarta. Don't miss the chance to dine at your favorite Puerto Vallarta restaurant - and save a bundle! Click HERE for a sneak peek at the menus other participating restaurants are serving.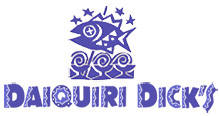 Daiquiri Dick's contemporary design exudes a quiet elegance that invites relaxation, and its tropical location at Olas Altas 314 on Los Muertos Beach offers the perfect atmosphere for enjoying spectacular views of Banderas Bay. For reservations call (322) 222-0566. For more information, visit DDPV.com.
Click HERE to read more about Daiquiri Dick's.
---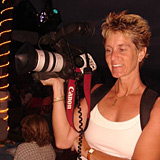 After having spent 10 years in the world of US broadcast news, Laura Gelezunas decided to unleash her skills on Puerto Vallarta by opening Video Diva Productions, a full-service, professional digital video company. Whether you're interested in a sales video, WEBmercial, music video, feature story, documentary, or corporate event video coverage, Laura has the experience, equipment and talent to coordinate a professional production. For more information, click HERE or visit her website at VideoDivaProductions.com.