Soothing sounds, tranquil ambiance and fabulous menu choices await you at The River Cafe. It all blends together creating the sophisticated fun of this Puerto Vallarta restaurant, where live music all day and night in an elegant natural setting truly enhances your dining experience.
Open daily from 8 am until 11:30 pm for a complete meal, snack or drinks, The River Café is one of Vallarta's favorite places to enjoy great music and fine dining. The impeccable service by a superior wait staff completes any meal in this ideal scene.
Begin the day with light and perfectly prepared waffles or a fluffy omelette with your choice of fillings. This is a great place for morning meetings or kicking off a vigorous day of vacation fun. Breakfast is served 9 am until noon.
Stop your hectic schedule for a laid back lunch... salads, sandwiches, tender chicken Fajitas or sizzling shrimp. The restaurant is located only steps away from the busy street, but miles from the downtown noise and traffic. Enjoy lunch between 12 and 4 pm.
Dinner is an adventure in towering taste, Lamb Lasagna with wild mushrooms or Mahi Mahi encrusted with pecans, plus a myriad of other eclectic choices. The chefs have created an array of unique taste combinations sure to please any palate any time of day. Dinner is served between 4 and 11:30 pm.
In short, if you're into fabulous food and marvelous music, you can't go wrong at The River Café, which, by the way, was named Vallarta's "Best Outdoor Restaurant" in the 2010 Vallarta Lifestyles' Readers Choice Awards.
Open daily from 8 am to 11:30 pm, The River Café is located at Isla Rio Cuale #4 in downtown Puerto Vallarta. Reservations are recommended and can be made by calling (322) 223-0788 or online at RiverCafe.com.mx.


Click HERE to learn more about The River Café.
---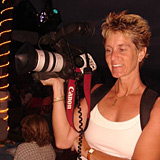 After having spent 10 years in the world of US broadcast news, Laura Gelezunas decided to unleash her skills on Puerto Vallarta by opening Video Diva Productions, a full-service, professional digital video company. Whether you're interested in a sales video, WEBmercial, music video, feature story, documentary, or corporate event video coverage, Laura has the experience, equipment and talent to coordinate a professional production. For more information, click HERE or visit her website at VideoDivaProductions.com.