Puerto Vallarta, Mexico - With the most breathtaking views of Puerto Vallarta, Banderas Bay and Los Arcos, Blanca Blue has become one of the city's most elegant and sophisticated dining options. This gourmet restaurant provides an idyllic setting for enjoying Restaurant Week 2011.
Located within the Garza Blanca Preserve Oceanfront Resort and Spa, this destination is beautifully designed. As one enters the property, vaulted areas greet you, distinguished by stylish furniture and art.
Off to the left, the brilliant architect created an enormous opening proudly displaying Los Arcos surrounded by sloping hills and deep blue water. Standing there one sees a glorious snapshot of the Mismaloya area, resembling a real-life 3-D postcard. It is a signature expression.
The restaurant features intimate and elegant beachfront dining in soft earth tones with crimson and gold highlights under a semicircular thatched palapa roof. The craggy rocks fall into the sea leaving waves to lap amongst them. Outdoor al fresco dining on a terrace with gas-lit torches is the desired location as the sun sets and temperatures drop. Or, patrons may opt for the air conditioned indoor seating. This restaurant earns and wears the title of "One of the most elegant places in the Puerto Vallarta Bahía de Banderas area."
Relaxed, unrushed professional service is provided by all offering attention. This is not the venue to visit for a speedy, "in and out" experience. Contemporary international cuisine is offered by chef Francisco Ruano and staff.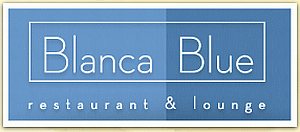 After a basket of golden popovers, the first course choices from the May Restaurant Festival menu were:
Heirloom Tomatoes with Feta cheese, beet and orange sorbet: A delightful mix of red, yellow, black skinned with yellow insides and tiny cherry tomatoes were brightly accented by a cold beet and orange sorbet. The long white plate was sprinkled with Feta cheese.
The coldness added sparkle to this creation.
Pork Belly Cannelloni with broth, shiitake mushrooms and broccoli velouté: The pork resembled thick bacon and was layered in fresh pasta sheets formed into cannelloni, then topped with earthy shiitake mushrooms and a broccoli velouté. Rich, soft and pleasing.
Apple and Cheese Salad with apple-Roquefort compote, pecans and blueberries: Mixed lettuces were tossed with apple slices and garnished with a Roquefort-apple compote, a cooked fruit purée. The pecans were caramelized and the blueberries very tiny.
The 2011 Restaurant Week menu offers a choice of three entrées:
Asparagus Ravioli Love Letters with ricotta, Parmesan and prosciutto: Ravioli pasta was stuffed with puréed asparagus, garnished with ample cheeses, prosciutto and tender pencil-thin asparagus spears.
Roasted Mahi Mahi: Fillet was coated with veal jus, a rich, lightly reduced stock, accompanied by hummus and organic mixed vegetables. The fish was moist and tender; the dish was light and satisfying.
Chicken Breast Confit in lemon beurre fondue with roasted potatoes: Three medallion of chicken breast, slowly cooked in goose fat according to French cuisine, were very tender and moist. The sauce, cooked in lemon, cream and white wine, was light and melded well with the delicate poultry.
Dessert temptations completed the meal:
Oaxacan Chocolate Cake with sweet potato ice cream, chili coulis and hazelnuts: Not pictured as a cake per se, it was more a hugely rich chocolate iced fudge-cake with a creamy subtle sweet potato ice cream, chili coulis and candied pecans. The state of Oaxaca has a vast history of raising and grinding cacao beans, which formed the basis of the new sauce called molé and also provided chocolate powder, revered as a drink as far back as Mayans and Aztecs.
Carrot Cake with Licor 43 and ginger ice cream: Nice square of cake topped with cream cheese icing which drizzled down the sides into a pool of creamy sauce, accented by Licor 43 (Cuarenta y Tres - Spanish for "43") made from citrus and fruit juices, flavored with vanilla and other aromatic herbs and spices, in total 43 different ingredients). A scoop of ginger ice cream on top offered a fine compliment.
Coffee Panna Cotta with hazelnuts, cardamon and raisin marmalade: Coffee flavored panna cotta, soft yet firm gelatin, was flavored with cardamon and raisin with hazelnuts on the side.
Blanca Blue's glassed-in 1700 bottle wine cellar is so select and extensive that the restaurant was awarded the Vallarta Lifestyles' 2010 Readers' Choice Award for "Best Wine List." On special occasions, bring your family and friends, take in the vistas and breathe in the flavors of this sensory experience. Blanca Blue is a stunning one-of-a-kind fine dining establishment in Vallarta - perhaps even the world.
Open daily from 6-11 pm, Blanca Blue is located within the Garza Blanca Preserve Oceanfront Resort and Spa at Carretera a Barra de Navidad Km. 7, north of Mismaloya. For more information or to make your reservations, call (322) 176-0700 or visit BlancaBlue.com.
The author was supplied one choice in each of the 3 courses on the special Restaurant Week menu and this review is in no way connected to his independent restaurant guide, "Puerto Vallarta Restaurant Guide Beck's Best", where write-ups receive no compensation.

Restaurant Week continues through May 31st at some of the most recognized restaurants in Puerto Vallarta.
For a list of participating restaurants and Restaurant Week 2011 reviews click HERE.