Puerto Vallarta, Mexico - Quiet time over coffee, a tranquil setting and tables loaded with choices, all at the new Sunday Brunch at River Café in Puerto Vallarta, Jalisco, Mexico.
"We learned that a couple of weeks ago that they started serving a brunch buffet," says brunch lover Lee Honeycutt. "So we came the first time and have been back every week since, but it's extremely good, anything you want, it's on the buffet."
All breads and pastries are freshly baked in house. Different dishes will be featured each week, but favorites like Machaca, shredded roast beef with poblano and red pepper strips, tossed with scrambled eggs in a savory sauce; Chilaquiles; hot cakes; hash browns; various vegetable creations and an Omelette/Quesadilla station will be highlighted each week.
Squash blossoms, chorizo, poblanos, along with ham, bacon, onions, tomatoes, jalapeńos, freshly grated cheese, plus many other ingredients are all available as part of your morning treat and will be cooked to your specifications. All you need to do is decide.
"My partner and I have been visiting River Cafe on and off for over ten years," says Lee, "And we have visited here so frequently that we have made such good friends here, not to mention the food is probably some of the best in Puerto Vallarta, so we just keep coming back multiple times per week."
All selections are prepared in small quantities, so everything on the buffet is freshly made. Start your Sunday off right for only $150 pesos, which includes a welcome Mimosa and non-alcoholic beverages. Take your time, appreciate the scenery and most all relish the food.
Sunday Brunch at The River Cafe runs from 8 am to 1:30 pm and the regular menu is also available.
Cuisine and nature meld exquisitely at River Cafe.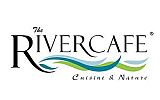 Open daily from 8 am to 11:30 pm, The River Café is located at Isla Rio Cuale #4 in downtown Puerto Vallarta. Reservations are recommended and can be made by calling (322) 223-0788 or online at RiverCafe.com.mx.

Click HERE to learn more about The River Café.