Puerto Vallarta, Mexico - The Seventh Annual Restaurant Week Festival started on May 15, and we chose The River Café to usher us into the 17 night-long sojourn. Located along the banks of the Rio Cuale in downtown Puerto Vallarta, The River Café is a place to enjoy with all your senses.
Immediately upon entrance into The River Cafe, guests are bedazzled by its beauty and serenity. Past a sparkling clean and bubbling pool, one is greeted by a white interior, highlighted with burnt orange accents and trimmed with strands of tiny white lights.
The main dining area is a coupling of two palapas with chandeliers of glass lilies. A canopied gazebo with four tables or suitable for a large group juts out almost over the gurgling Rio Cuale.
We were warmly and promptly greeted by maitre'd Emmanuel, a longtime fixture and rightfully so. He showed us a fine table overlooking the river, under the wafting tree limbs and the sound of fluttering birds off to settle in for the night. Musicians Adrian and Ricardo serenaded the diners with Spanish and English songs. Blissful is the best description of this experience here in Puerto Vallarta.
The Seventh Annual Restaurant Festival menu started with choices of: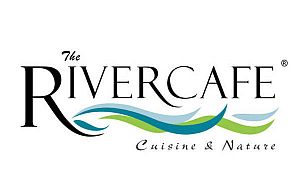 Mushroom Soup with Gorgonzola croutons with basil oil: A rich mushroom stock accented by homemade croûtes, or French croutons, crisp with gorgonzola cheese, floating on top and a hint of basil.
Grilled Apple Salad with Camembert and raspberry dressing: The soft apple slices were complimented by the cheese which was shaped into two thick strips and fried golden brown yet creamy inside. The greens were tossed in a sprite and intense puréed raspberry sauce.
Arandini - Hand-Rolled Risotto Balls over Italian greens and pomodoro sauce: The risotto was mixed with cheese into two large balls, coated, then fried beautifully. One did not realize that rice was the major component. The deep Italian tomato puree enhanced the dish nicely.
A very fine selection of entrées included:
Pecan-Crusted Mahi Mahi with vegetables over coconut sauce and bed of wilted chard and pumpkin seeds: The thick fillet was moist throughout with its crispy outside delightful with chopped pecans. The thin sauce underneath, intense with coconut flavor, made for a pleasing combination on the bed of wilted greens.
Filet Mignon with mushrooms in red chile sauce: Robust beef flavor not often found in this cut was highlighted with a mild chile kick.
Lamb Lasagna with mushrooms and goat cheese with tomato basil sauce: Surprising choice of meat for this traditional Italian dish but the various ingredients blended smoothly into a tasty result. It was a thick portion with the pasta cooked properly. The creation almost melted in one's mouth.
For the finishing touches, desserts offered were:
Chocolate Lava Cake topped with Vanilla Ice Cream: Square of thick chocolate cake, served warm with the "lava" soft filling oozing out when cut with a fork, mixing with the ice cream, intense with vanilla flavor.
Crêpes topped with Flamed Brandy and Chocolate: The apple-filled pancakes were drizzled with hot chocolate and served with a large dollop of the same fine vanilla ice cream.
Crème Brûlée with Berry Sauce: Beautiful creamy custard, the top was correctly crispy gold, accompanied with a fresh berry purée.
Visiting one of the top restaurants in the Puerto Vallarta / Bahía de Banderas area is sufficient, but to find the high level of quality of food, service and ambiance make it even more valuable for people hoping for a lasting fond memory - and an unforgettable dining experience.
Open daily from 8 am to 11:30 pm, The River Café is located at Isla Rio Cuale #4 in downtown Puerto Vallarta. Reservations are recommended and can be made by calling (322) 223-0788 or online at RiverCafe.com.mx.
The author was supplied one choice in each of the 3 courses on the special Restaurant Week menu and this review is in no way connected to his independent restaurant guide, "Puerto Vallarta Restaurant Guide Beck's Best", where write-ups receive no compensation.

Restaurant Week continues through May 31st at some of the most recognized restaurants in Puerto Vallarta.
For a list of participating restaurants and Restaurant Week 2011 reviews click HERE.