The Puerto Vallarta, Punta Mita and Riviera Nayarit area has been a great attraction for glamorous female celebrities in the last month. The iconic Kardashian sisters – Kim and Kourtney were in Punta Mita and the equally iconic Dallas Cowboys Cheerleaders were also visiting.
This was the 5th year in a row the Dallas Cowboys Cheerleaders chose the Puerto Vallarta / Punta Mita area to visit and take advantage of the beautiful scenery as backdrops for the glamorous photo shoot of their 2012 Calendar and Television show, set to air this fall on the NFL Network.
The lovely ladies stayed at the Four Seasons Resort and at Hotel des Artistes in Punta de Mita and, as you can imagine, they attracted a lot of attention while doing the photo shoot of their 2012 calendar and their television show, set to air this fall on the NFL Network. The calendar features these bewitching bikini clad beauties set in both Riviera Nayarit and Puerto Vallarta under the slogan, Two Paradises, One Destination.
"America's Sweethearts" also visited La Cruz de Huanacaxtle, where area residents and visitors were ogling this past Sunday in the Marina Nayarit as the cheerleaders got off the bus and headed to a private function at the Yacht Club's Sky Bar. Witnesses remarked that it was quite the buzz at the La Cruz Farmers Market in the Marina on the closing day of the season. What a way to go.
Kelli Finglass, director of the Dallas Cowboys Cheerleaders remarked, "The newly developed scenery of Vallarta Nayarit provided us fiery sunsets and breathtaking landscapes for the photography and television show. Our television show, airing this fall on the NFL Network, was further enhanced by excursions like swimming with sea lions and dolphins to zip lines and repelling down waterfalls."
So then, after all the time and energy that a photo shoot takes, they went zip lining, swimming and yachting with the Banderas Bay locals... my respects for your stamina and mystique ladies! This written by a woman who could not and cannot turn a cartwheel but definitely abides by another quote from Kelli Finglass, "If your hair is a mess, add more lipstick."
This coming September our very own Governor Ney González Sánchez will attend the football game between the Dallas Cowboys and the Chicago Bears in Cowboys Stadium for the unveiling of the 2011 Dallas Cheerleaders Calendar... my guess is that Governor Ney, as any other male on the planet, is delighted to attend the event with the Dallas Vaqueritas!
The Iconic Kardashian Sisters Visit Punta de Mita
If you want to keep up with the Kardahians, you will need to go to Punta Mita Mexico. The popular Kardashian family was recently photographed enjoying a well deserved vacation on the beaches of Punta Mita Mexico.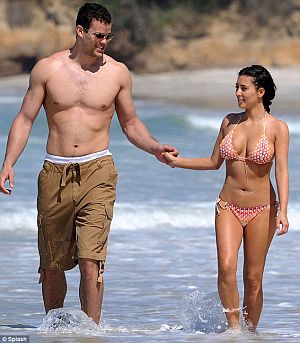 Punta Mita is an international luxury vacation destination and attracts many celebrities on a regular basis with visitors such as the luscious Kim Kardashian and her boyfriend New Jersey Nets basketball star Kris Humphries who were recently seen strolling down the beach and enjoying the sun. The focus of the luxuriant getaway was to celebrate sister Kourtney's 32nd birthday and her husband Scott Disick and of course son Mason were also there playing in the sun.
The Kardashian sisters are not strangers to the Punta Mita / Puerto Vallarta area on the west coast of Mexico, as they have visited before, staying at the opulent Villa Aramara, belonging to Girls Gone Wild mogul Joe Francis.
Apparently it is becoming a tradition to spend Kourtney's Birthday at the villa in Mexico as they have done it several times. The villa is almost a mini resort with over 30,000 sq. ft and 2 separate guest houses, each with its own pool. The villa has its own Jet Skis, ATVs, kayaks, and is a perfect place to surf as well as play tennis, beach volleyball and more.
With all this, as well as Joe Francis's Hollywood connections, it is no surprise that he has hosted mega celebrities in the recent past. From the very well known girls Jennifer Anniston and Courtney Cox from the popular television show Friends, to Demi Moore celebrating her birthday, this is obviously a house made for having fun.
As well, it is a short commute from Los Angeles at just over 2 hours commercially on an Alaska Airlines direct flight, and obviously very easy if you are coming by private jet and landing at Puerto Vallarta's International Airport. Then a short 30 minute drive along the scenic coastline to Punta de Mita, and before you know it you're sitting pool side with an icy Margarita in hand.
If you don't have celebrity friends with private luxury villas, let Beston Properties help. We have accommodations for everyone - from 2-3 bedrooms luxury properties for smaller groups going up to 12 bedroom villas - all with private pools and staff to pamper you.

There is no better way to forget the stress and hustle and bustle of everyday life than through escaping to a private villa or well appointed condo in Puerto Vallarta or Riviera Nayarit. So call Beston Properties at (213) 291-1594 from the US, send an email to info(at)bestonproperties.com or visit BestonProperties.com TODAY and let them help you plan your perfect vacation.

Click HERE to learn more about Beston Properties