Puerto Vallarta, Mexico - Savory and sweet intermingle during the For The Love of Garlic and Mango festival at The River Café. There are three courses plus some extras for only $249 pesos.
A complimentary starter captures the essence of the festival. Indulge your senses, spread the warm, roasted garlic on top of freshly baked crostini then spoon over the slightly spicy mango chutney. Also sip a welcome Mango Margarita or Mango Mojito.
Appetizer choices include Double Garlic Cream of Potato Soup with a Chipotle aioli or a Tossed Caesar with anchovy and garlic dressing.
An array of alternatives for the main course, Penne with Roasted Garlic; Pancetta and Peas tossed with a velvety garlic Alfredo sauce; Filet Mignon marinated in fresh garlic, rosemary and thyme, then grilled to perfection, served with roasted garlic mashed potatoes and seared asparagus; Grilled Chicken Breast with 40 clove garlic sauce, served with savory steamed vegetables and roasted garlic mashed potatoes; or Stacked Shrimp al Pastor arranged over roasted pineapple and cilantro risotto with a mango reduction sauce.
For dessert? Brandy Glazed fresh cut Mango over smooth Vanilla Ice Cream.
Relish the collection of recipes featuring one of the oldest cultivated foods and the king of fruits during June and July. The River Cafe's special "For The Love of Garlic and Mango" menu is served daily from noon to 11:30 pm.
Cuisine and nature meld exquisitely at River Cafe.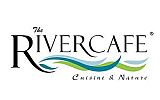 Open daily from 8 am to 11:30 pm, The River Café is located at Isla Rio Cuale #4 in downtown Puerto Vallarta. Reservations are recommended and can be made by calling (322) 223-0788 or online at RiverCafe.com.mx.

Click HERE to learn more about The River Café.