Puerto Vallarta, Mexico – No Way José!, recently named Vallarta's "Best Overall Restaurant," "The Best Moderate Restaurant" and runner-up for "Best Service," threw an unforgettable birthday bash for one of its owners, Julie Guerrero, on Sunday, July 31, but all of the presents went to the new Banderas Bay Womens' shelter and guests.
"What a terrific way to celebrate my birthday," exclaimed Julie. "Total raised for the shelter from raffles, cupcakes, bracelets and special surf & turf dinner of lobster and filet mignon came to $13,600 Pesos, which is enough to buy 27,000 cement blocks! Mil gracias again to all. Let's do it again next year!"
Also that night, Julie announced a new round-up program also to help the shelter. Dine at No Way José! and once you are presented your bill, you will be given the opportunity to round-up your bill to the next 10 pesos, and the rounded-up portion will go to the shelter.
The mission of the Banderas Bay Women's Shelter is to provide an immediate, temporary and safe living environment and to provide the basic needs for women and their children who are victims of domestic and sexual violence. More information on the shelter can be found on their website CompassionForTheFamily.org.
Join us at No Way José! for a memorable "Best Of Vallarta" meal that combines the delicious food of Mexico with the comfort of a family home.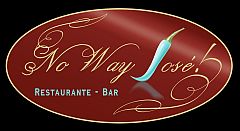 Named the "Best Overall Restaurant," "The Best Moderate Restaurant" and runners-up for "Best Service" in Vallarta Lifestyles' 2011 Readers Choice Awards, No Way José! is located on the south side of downtown at 5 de Febrero #260, just over the Vallarta street bridge on your left. Open Tuesday - Sunday, 4-11:30 pm. Reservations are available by calling (322) 223-2853 or by emailing reservations(at)nowayjosemx.com. For more information, visit NoWayJoseMx.com.

Click HERE to learn more about No Way José!