Puerto Vallarta, Mexico - A restaurant with a side order of deli makes its home on the shores of Los Muertos Beach in Puerto Vallarta, Mexico. Daiquiri Dick's annually closes during September for vacation. This year, the staff worked hard to complete some big changes and they are thrilled about showing off for a sensational winter season starting October 1, 2011.
The new look includes The Deli, which moved from Venustiano Carranza to right inside the restaurant at Olas Altas 314, really convenient. The Deli will continue to serve up its famous baked goods, sensational salads and sandwiches. New this year will be daily specials including quiches and soups. All of this is available to go for beach picnics, office lunches, parties on your patio or when you are just searching for the best light snack.
October is the month when a good number of snowbirds return. The Daiquiri Dick's staff wants to extend a special welcome back to all Canadians by offering them a 10 percent discount all month long. A proper ID, such as a driver's license or passport must be shown when you place your order.
The maple leaf festivities will also include Canadian Thanksgiving on October 10th with turkey and all the trimmings for $235 per person. Dinner starts at 5:30 pm and reservations are recommended. You do not need to be from Canada to enjoy this tasty meal.
Mark your calendar and get ready for The Deli Re-Grand Opening Party, Saturday, October 22nd from 4 to 7 pm. Meet the lively Solo Exitos DJ, Jessica Sanchez, who will be doing a live broadcast. There will be samples of The Deli's famous food and a free raffle for a bevy of prizes. Winners must be present to collect their goodies.
The October re-opening of the restaurant will feature lots of new specials. While on vacation, chef/manager, Hnoi Latthitham, visited Australia on her way home to Thailand and she will be sharing her culinary journeys on Saturday nights with Thai appetizer and dinner features. Keep abreast of Daiquiri Dick's and The Deli daily specials on FaceBook and Twitter.
Daiquiri Dick's and The Deli both offer full catering services. All your party planning in one convenient location. You can have your special event at the restaurant or in the privacy of your home. The process is easy with custom menus from the restaurant or peruse the catering menu from The Deli. All the food prepared to your specifications and staff can be provided so you can devote your energies to being the perfect host.
Daiquiri Dick's has been a Fodor's Choice Restaurant for the past several years and has been voted in Vallarta Lifestyle's magazine the restaurant with the Best Service, Best Margarita and second Best Over-All, and The Deli has been voted best carry-out yearly.
Whether you enjoy a extraordinary beachside meal, carry-out a delicious sandwich, scone and coffee or have your next event catered, Daiquiri Dick's and The Deli consistently serve up the best. Now these two great culinary establishments are under one roof, making it easy to never cook again.
Double your exceptional experience at Daiquiri Dick's and The Deli.
Located at Olas Atlas #314 at Los Muertos Beach on the South Side of Puerto Vallarta, Daiquiri Dick's is open daily from 9 am to 11 pm. For more information, call (322) 222-0566, email daiquiridicks(at)gmail.com, or visit DDPV.com. The Deli is open daily from 8 am to 7 pm. (322) 223-9523.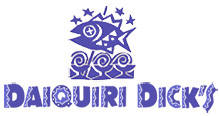 Daiquiri Dick's contemporary design exudes a quiet elegance that invites relaxation, and its tropical location at Olas Altas 314 on Los Muertos Beach offers the perfect atmosphere for enjoying spectacular views of Banderas Bay. For reservations call (322) 222-0566. For more information, visit DDPV.com.
Click HERE to read more about Daiquiri Dick's.