Puerto Vallarta, Mexico - Serve the eclectic flavors from Daiquiri Dick's restaurant at your next get together, or simply treat yourself. The famous Puerto Vallarta, Mexico beach eatery shares some of their best known recipes in their Sand in Your Shoes Kitchen Workbook - and right here on BanderasNews.
Kick Ass Yellow Mole Marinade
2 tablespoons oil
1/4 cup onion, sliced and diced
4 tablespoons chopped garlic
Heat oil in skillet over medium and sauté until translucent.
Add 1/2 cup white wine, your choice to deglaze pan. Cool and place in blender.
To this you will add:
4 tablespoons ground or fresh chopped ginger
1 tablespoon turmeric
1 tablespoon ground toasted cumin
2 tablespoons ground toasted coriander
While blending, slowly add:
1/2 cup Canola oil
Place in bowl and the coat around one pound of peeled and deveined shrimp. You can store in the fridge overnight or while you are making the salsa.
Tomaquet Salsa
3 ripe tomatoes
Cut in half, then squeeze the seeds out. Apply slight pressure because you don't want to squash your tomato. Pulp side down gently slide against the finest grater you have over a mixing bowl. Do this until only the skin is left. Now add:
1 tablespoon extra-virgin olive oil
1/8 teaspoon ground black pepper
2 teaspoons fresh chopped parsley
2 teaspoons lime or lemon juice
1 teaspoon fresh chopped thyme
Gently mix all together. Place in serving dish.
Get the shrimp out of the fridge, skewer and grill until opaque. Arrange on serving dish alongside your salsa for dipping. Enjoy!
Featuring over 100 recipes, photos and great stories about this historic Puerto Vallarta restaurant and its owners, The Daiquiri Dick's Sand in Your Shoes Kitchen Workbook is for sale at the restaurant, Banderas Bay Trading Company, Constitución 319A on the south side of Puerto Vallarta, or you can order online through their website, DDPV.com. Enjoy their food no matter where you live.
Open daily from 8:30 am to 11 pm, Daiquiri Dick's offers elegant dining in a relaxed atmosphere for breakfast, lunch or dinner. (Closed on Tuesdays and the month of September.) Visa, MasterCard and Banamex accepted. Reservations are recommended.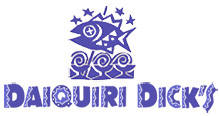 Daiquiri Dick's contemporary design exudes a quiet elegance that invites relaxation, and its tropical location at Olas Altas 314 on Los Muertos Beach offers the perfect atmosphere for enjoying spectacular views of Banderas Bay. For reservations call (322) 222-0566. For more information, visit DDPV.com.
Click HERE to read more about Daiquiri Dick's.